Petrol shortages continue to grip the country and, although queues at petrol stations continue, the people of Newcastle seems unphased as they speak to Newcastle World.
Many petrol stations in Newcastle, Gateshead, North Tyneside and South Tyneside are without fuel or have put limits on how much drivers can buy.
Despite the evident shortages, all caused after BP issued a warning to the Government saying it would not be able to complete all its deliveries due to a lack of lorry drivers, locals in the city centre are going about their lives all the same.
Many are benefiting from the region's public transport options, which include extensive train, bus and metro services.
Some of those walking about in the city centre stopped by to tell the website what they thought of the ongoing situation.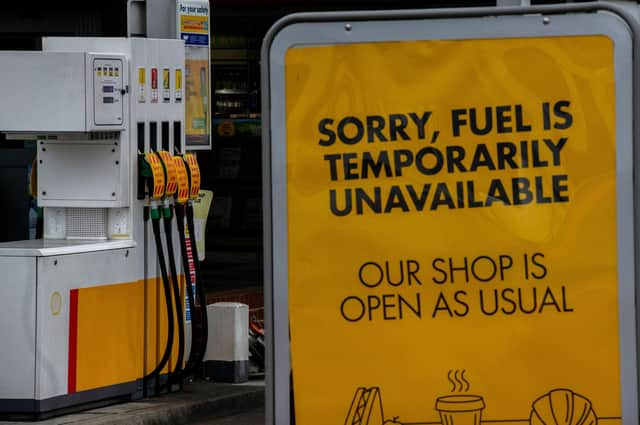 Helen from Durham and Christy from Gateshead were both calm as could be, with only Helen having bought petrol in the rush but "only because I needed to".
Christy said: "In our situation, because we're retired, we're just waiting for it to die down.
"We'll use public transport if we run out.
"We don't know anyone really stressing about it either."
It was a similar story for Becky from Tynemouth, who had managed to get her hands on some petrol, but only as a necessity.
Becky said: "I just bought petrol as I was on holiday, came back and my red light was on.
"I'm hoping it gets better. Everyone will fill up and then it'll be alright.
"No-one I know has panic bought. People are getting worried because everyone else is buying, I guess it's just a natural reaction."
Emma from Wrekenton was more worried than others, having spent one mad evening driving around in need of fuel and struggling to find any.
Emma said: "I was on two bars and I went to one petrol station it was closed. Went to another, closed.
"I thought I've got to get to work all week so I tried one more next to Aldi on Sunderland Road.
"I got in and was going to just half fill it but everyone else was filling up so I thought, I'm just going to put the full tank in and then it'll last us for a couple weeks.
"By 5pm, three main petrol stations in Gateshead were shut.
"The one at the bottom of Gateshead was filling up this morning. There as a tanker there and that was mental as people saw the tanker and the queue was blocked up.
"They'll get on top of it and it'll stop eventually."
Tony from Newcastle shared his thoughts that something needed to be done to get the petrol to people who need it the most.
He said: "My car hasn't moved. I think if the government sort it out and stop frightening people it'll calm down.
"I don't know anyone who has panic bought, my two sons are quite sensible.
"The people who needed, like the health workers and people who work in hospitals should get it. They should have priority."