The start of the Great North Run 2022 was remarkably different to previous years on Sunday.
Taking place just days after the passing of Queen Elizabeth II at her Balmoral residence on Thursday, the record-breaking 60,000 participants were told to expect changes to this year's event.
Organisers Great Run admitted that they were reviewing whether or not the event should go ahead in the immediate hours after Buckingham Palace confirmed Her Majesty's passing. On Friday, a statement confirming that the race was on was made.
It read: "Sunday's Great North Run will go ahead as planned. The event has traditionally been a celebration of the extraordinary achievements of ordinary people, this year it will be an opportunity for us to come together and express our condolences, while celebrating the life of our extraordinary Queen.
"The thousands of runners taking part are expected to raise an estimated £25 million pounds in much-needed charitable donations, a fitting tribute to the Queen, who lived her life in the service of our country and its people."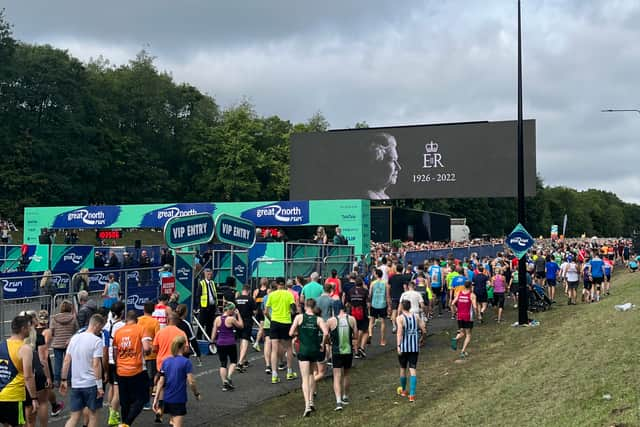 As the 60,000 runners arrived at the A167 startline on Sunday morning they were greeted with a large screen portraying a moving tribute to Her Majesty, whose face filled the huge television.
Moments before the gun went off, the Great North Run participants were addressed by founder Sir Brendan Foster about the unprecedented times and local religious leaders also spoke.
An impeccably-observed one minute silence followed as runners thought about Queen Elizabeth II's reign - the Great North Run has never happened under any other monarch.
A loud rendition of the National Anthem followed as heart rates started to raise thinking about the challenge that lay ahead.
Reacting online to the silence after the race, one runner said: "An emotional and fitting start to the Great North Run this year. A great way to pay tribute and the minute silence was breathtaking."
Another wrote: "Was amazing to be 1 of 60000 who fell silent. Incredible respect."
Others described the scenes as "powerful" and "emotional".