Now that the much-loved Thor the walrus has left his North East perch in Blyth, there seems to be one perfect fishing village in Scotland where he should call next on his trip home to Arctic waters.
The animal, who has been nicknamed Thor by his adoring fans across the world, treated our local region to a visit this week when he stopped off in Blyth at around midday yesterday. Thor stayed overnight in Northumberland to rest up on a pontoon and the British Divers Marine Life Rescue, who were watching the mammal, confirmed he was back on his way by 6:45 on Tuesday morning.
It is expected that the traveller is on his way to home waters of the Arctic and will now continue his journey north after previously visiting Scarborough over the New Year. Thor is also known to have visited a Hampshire beach in mid-December and had previously been seen in the Netherlands, Dieppe and Brittany.
Now, as Thor continues his journey North, there seems like one obvious place where he should stop next and that is the little Scottish village of St Abbs.
The small village is just over the border from Northumberland and is known for its fishing history. However, it's not its maritime presence or any environmental reason that makes this the perfect place for Thor - rather St Abbs' role in popular culture.
The village famously featured in 2019 blockbuster Avengers: Endgame as the location of New Asgard. This fictional location became the refuge home for surviving Asgardians led by - yes, you guessed it - Thor.
In the film, New Asgard is visited by Hulk and Rocker Racoon to find 'fat' Thor drinking beer, eating pizza and hollering at kids. They then set about convincing the God of Thunder to join their cause in fixing post-Thanos chaos.
The famous film grossed $2.798 billion worldwide, broke numerous box office records and the Scottish village of St Abbs was seen on screen by over 100 million viewers on the movie's first weekend in cinemas alone.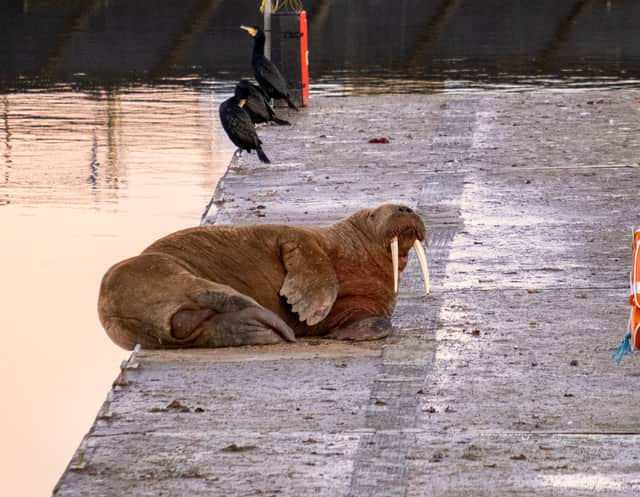 Since its appearance in the film, signs at St Abbs now read 'twinned with New Asgard' and fans of the Marvel films have made the trip to Scotland just to visit the movie location - which is instantly recognisable for fans of the film.
St Abbs is just an hour and a half drive from Newcastle and a short trip from Northumberland for any keen visitors, providing the perfect photo opportunites to re-create the film's iconic scenes. It would make a 70-mile trip up from Blyth to St Abbs for Thor the walrus.
Given his nickname of Thor, it seems only right that the walrus follow his trip to Northumberland and the North East with a visit to his fictional namesake's hometown on his way to the cold waters of the North.
RSPCA inspector Geoff Edmond has said that Thor appears fit and healthy, and reminded people to respect the animal.
He said: "We understand it's exciting and unusual to have the walrus take up a temporary residence, however, it's in his best interests to be left alone as much as possible, so we're asking people to remember he is a wild animal and avoid the temptation to get near to him and disturb him.
"We would also remind everyone that the walrus is protected under the Wildlife and Countryside Act, 1981, and so disturbing the animal may constitute an offence."