Tyne Bridge zip wire: Our exhilarating Jelly Legs experience
People are flying across the Quayside on a zip wire from the Tyne Bridge this weekend
Watch more of our videos on Shots! 
and live on Freeview channel 276
Visit Shots! now
If you're walking along the Quayside this weekend you'll see some crazy Newcastle residents flinging themselves from the Tyne Bridge on a zip wire.
As part of NE1's Summer in the City, Jelly Legs are taking over the Tyneside icon and letting people fly across the River Tyne to the Newcastle City Marina on a zip wire.
Adrenaline junkies can take on the zip wire on the two last weekends of August for a price of £35. Bookings must be made in advance via a dedicated platform, which you can find here.
Like lambs to slaughter, two of the NewcastleWorld team went along on opening day.
Quite unsure what to expect, here's how Holly and Toby fared on the Tyne Bridge zip wire.
Holly Allton: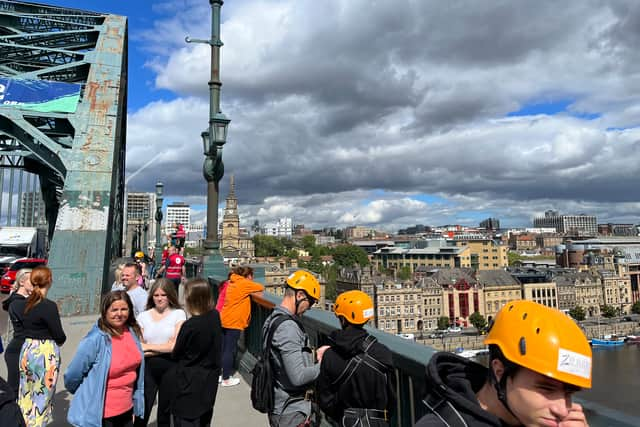 Jelly Legs is the perfect name for the company that host adrenaline fuelled events in the North East. I say this because as I was standing on the Gateshead side of the Tyne Bridge, being harnessed up by a Jelly Legs staff member, ready for the zip, my legs were literally shaking like jelly underneath me. Everything went in slow motion, as I (the least dare-devil like person ever) walked across to the section where you literally jump off the bridge.
My colleague Toby went first, and that made me feel even worse, as he seemed to disappear into thin air, as the zip goes so fast!
Finally, my moment arrived, and my stomach was in a flutter of excitement and nerves. After being double-checked over and clipped onto safety ropes etc, I was told "off you go!", ever so casually.
I jumped off, and that was the worst bit as I felt myself plummeting, but next thing you know I'm flying across towards the Quayside. I instantly felt joy!
It was an amazing feeling, and to look around the beautiful area from a completely different perspective, was a great experience. I landed safely, pretty much in the arms of another Jelly Legs staff member, and even though my heart was still racing, I felt completely exhilarated and happy.
Toby Bryant:
I hate rollercoasters. That stomach-dropping feeling you get simply isn't the one for me and I will avoid it at all costs.
When being signed up for the Jelly Legs Tyne Bridge zip wire as a guinea pig, I felt surprisingly confident. I'd actually always got on well with the zip wires at activities such as Go Ape. A leisurely, horizontal wide was something in my comfort zone and for that reason, a slow trip across the Newcastle skyline would be no issue.
However, as I perched on the iconic green railings of the Tyne Bridge peering over into the abyss of the River Tyne, I quickly realised this was in fact an absolute madness.
Quite how I managed to tell my body to flop itself off the bridge I'll never know, but fight or flight kicked in and off I flew.
The zip wire was a hair-raising experience but one I truly will never forget.