A North Tyneside man is due to appear in court later this month after Brentford FC striker Ivan Toney was racially abused on social media.
A full investigation was launched by police after the Premier League forward shared a screenshot of racial abuse received following a 2-0 Brentford victory over Brighton on October 14.
Toney scored two goals in that game and shared an image of the abuse online the following morning with the caption: "I wasn't even going to post this but I woke up angry."
When challenged by one Twitter user for doing so, the footballer added: "I won't regret it believe me."
Officers are treating the message as a hate crime and Metropolitan Police and Northumbria Police worked together to trace the suspect to living in the North Shields area of the North East. He was subsequently located and interviewed under caution in connection with the offence.
Now, the 24-year-old has been served with postal requisition to appear before magistrates in Newcastle later this month. There he will be formally charged with sending a message that was grossly offensive or of an indecent, obscene or menacing character.
Superintendent Scott Cowie, hate crime lead for Northumbria Police, said: "There is absolutely no place for discrimination of any kind in society – whether that's within our communities or online. Hate crime in any form is totally unacceptable, and as a Force, we are committed to taking appropriate action against anybody found to be spreading this type of abuse.
"We would like to thank the victim for his support and cooperation throughout this case, as well as our colleagues in the Metropolitan Police who assisted our enquiries.
"Anyone who receives online abuse or believes they have been a victim of a hate crime is asked to always report it, so it can be fully investigated.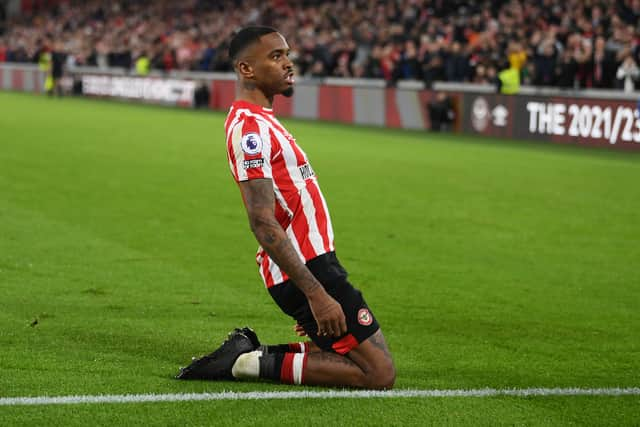 "We'd also ask members of the public who see, read or hear any offensive, racist or homophobic language at fixtures or online to get in touch with us."
The incident took place during the second week of the Premier League's No Room for Racism campaign and the message sent to Toney drew widespread criticism online.
A statement from the star's club, Brentford FC, read: "We condemn this discriminatory behaviour in the strongest possible terms. An attack on one of our players is an attack on all of us.
"Ivan will receive the full backing from the Club and from the Brentford fans who we have already seen condemning the abuse.
"We expect strong support from the police, legal authorities and from Instagram's parent company, Meta, to ensure that the individual involved faces the full force of the law for this despicable hate crime."
The suspect is due to appear at Newcastle Magistrates' Court on January 25. More information on how to report racism can be found on the No Room for Racism website here.