Newcastle is in for another warm week as temperatures are expected to climb for many parts of the UK.
Met Office Deputy Chief Meteorologist Tony Wardle said: "Heatwave criteria look likely to be met for large areas of the UK later this week, with the hottest areas expected in central and southern England and Wales on Friday and Saturday.
"Temperatures could peak at 35°C, or even an isolated 36°C on Saturday.
"Elsewhere will see temperatures widely into the high 20s and low 30s Celsius later this week as temperatures build day-on-day through the week due to an area of high pressure extending over much of the UK.
"Coupled with the high daytime temperatures will be continued warm nights, with the mercury expected to drop to only around low 20s Celsius for some areas in the south."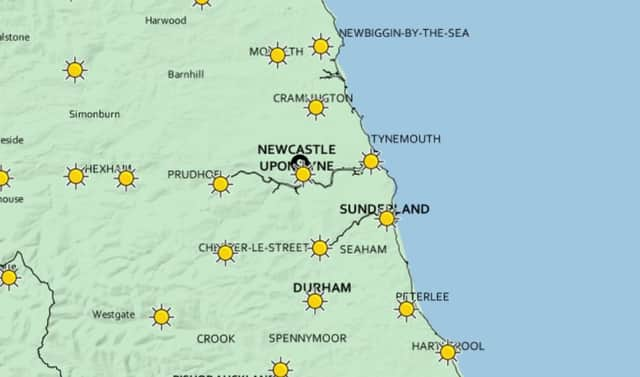 Earlier last week, several areas of the UK also imposed hosepipe bans to conserve water during the hot weather.
While Newcastle is unlikely to experience a heatwave and is not subject to hosepipe bans, temperatures are expected to reach the mid-20s this week.
So, what is the current weather forecast for Newcastle? Here is everything you need to know about the latest Met Office updates.
What is the threshold for a heatwave in the UK?
The Met Office states that a certain threshold must be reached in order to declare a heatwave.
On the Met Office website, it states that: "When a location records a period of at least three consecutive days with daily maximum temperatures meeting or exceeding the heatwave temperature threshold."
The initial heatwave thresholds were determined using the climatology of daily maximum temperatures at the halfway point of the meteorological summer for the years 1981 to 2010. (15 July). The Met Office revised the criteria in 2022.
The temperature that triggers a heatwave varies by county, with some southeastern regions having a threshold of 28°C and northern and western regions having a threshold of 25°C.
When will Newcastle have the highest temperature this week?
According to the national forecasters, the hottest day this week will be on Wednesday, August 10.
The mercury is likely to hit 26°C between 2pm and 6pm, with a humidity of less than 50%.
What is the Met Office weather forecast for the North East?
Tuesday, August 8
Today will be mostly bright and dry, with occasional haze due to thin layers of high clouds. Warm with low winds, however coastal areas may feel considerably cooler as an afternoon onshore breeze develops. Maximum temperature 26°C.
Tonight will be dry and clear, with isolated patches of mist or light fog likely in the early morning hours and generally mild temperatures. Minimum temperature 12°C.
Wednesday, August 9
On Wednesday, any early mist or fog will quickly clear, leaving behind a warm and dry day with unbroken sunshine for the majority of the day. With the return of the onshore breeze, coastal regions seem somewhat cooler. Maximum temperature 29 °C.
Forecast for Thursday through Saturday: High pressure continues to deliver dry, steady weather with rising temperatures through the end of the week.
What is the UK long range weather forecast?
Saturday, August 13 to Monday August 22
The start of this period will see dry and sunny spells for most, with temperatures either very warm or hot.
Meanwhile, the far north and northwest regions may see clouds, patchy rain, and coastal mist and fog in places, with near normal temperatures.
Heavier showers may develop in the southwest and spread through the week, with some possible thundery showers in the south.
Temperatures remain above average but trending downward. More changeable weather prevails through this period, with heavier showers or thunderstorms with clear spells possible across many areas.
The north may see generally more rainy conditions while temperatures remain warm or very warm, potentially locally hot in southern areas. Towards the end of this period, we may see a return to more settled conditions, bringing dry and sunny weather.
Tuesday, August 23 to Tuesday, September 6
Stable circumstances are predicted to deliver mostly sunny and dry weather. However, as we progress through August and into September, we may anticipate more variable weather.
The northwest will likely have the wettest circumstances, while the southeast will remain the driest. It is anticipated that there will be sunny and dry intervals between showers, and that temperatures will remain above normal.