What is blood rain? All you need to know about the weather event and whether or not it will fall in Newcastle
A mix of enviromental factors mean so-called 'blood rain' could hit the UK this week.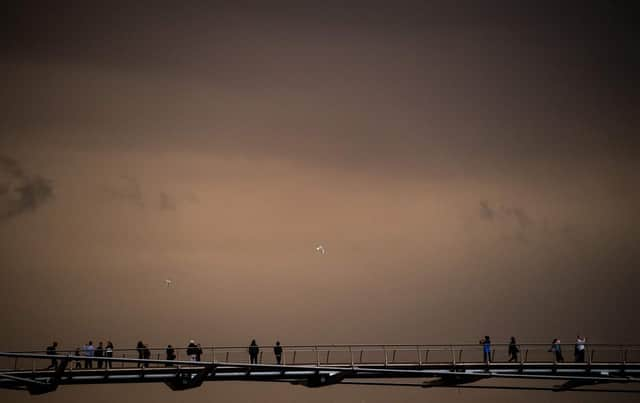 Reports of a weather system carrying blood rain to the UK continue the trend of unpredictable weather this country is famous for, but what is the weather phenomenon and how could it impact the North East?
Despite its ominous name, blood rain occurs when red dust is blown north to Europe combines with water particles as it falls as rain, creating a red tint.
This dust is usually blown north from the Sahara Desert and luckily doesn't contain real blood!
The Met Office explains that strong winds can whip up dust and sand before getting blown around in the atmosphere. Eventually, this dust will fall back to the ground due to gravity, or it gets caught up in rain clouds where it combines with the water droplets to create blood rain.
How often does blood rain occur?
Despite the intrigue surrounding the event, blood rain is relatively rare. This is because of the amount of red dust needed to make rain water appear red.
In the UK blood rain in its truest form, where rain falls as a strong red colour, doesn't often occur. More often than not, dust is in water droplets, but there is not enough to turn water red.
Rain is forecast to begin in Newcastle on Monday May 22, but the Met Office do not believe enough dust will be in the atmosphere for rain to fall in a strong red colour. More often than not, a faint yellow or brown shade may be seen, but very little more can be found.
The potential for rain to be mixed with dust particles is more likely in the South East where a yellow haze may be a fixture of thunderstorms over the coming week or so.
Looking further ahead, particles are set to be blown away from the UK after the rain which kickstarts next week. Any winds are likely to be southerly according to the Met Office, meaning any dust over Tyne and Wear will be blown either out to sea or down the coast.