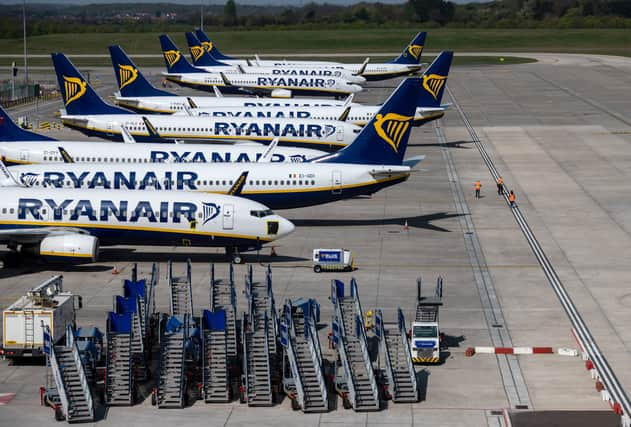 Storm Eunice arrived in the UK today, with most of the UK bracing itself for strong winds and heavy rainfall.
Expert meteorologists have predicted that the winds Eunice is battering the UK with could be the strongest we have seen in the country for 30 years.
A lot of places in the UK, including the South West, South East and London have all been issued red weather warnings, and are just a couple of hours away from wind speeds that could exceed 70mph.
Eunice arrives immediately after Storm Dudley, which caused havoc in the north of England and Scotland, leaving thousands without power in Yorkshire and causing trains in Scotland to be cancelled on Wednesday night (16 February).
Despite that extensive damage caused in the wake of Storm Dudley, some experts have predicted that Storm Eunice could cause more damage.
Will flights be cancelled from Newcastle Airport?
It appears as if weather elsewhere has indeed impacted the air traffic concerning Newcastle Airport, however, the decision to cancel flights will ultimately be up to the airline.
A spokesperson from Newcastle Airport said: "We have seen some inbound flights from the south of the UK e.g. London Heathrow, Newquay and Southampton cancelled this morning which has resulted in the return leg from Newcastle being cancelled.
"All of our other flights, international and to the rest of the UK continue to operate as normal."
How do I check if my flight is cancelled?
Despite the comment from the spokesperson, due to the fact that the weather can change imminently, keep on eye on certain websites such as FlyAware, FlightStats and FlightRadar that keep you up to date on whether your flight has been cancelled.
Alternatively, certain airlines will notify you via text message or email if your flight has been cancelled.
Can planes fly in storms?
Planes can fly in storms, as they are designed to continue to operate efficiently in the harshest of environments and withstand natural forces such as lightning strikes.
Pilots are also trained for this. They are trained to land the plane in difficult circumstances, but will assess how bad the weather is when performing a landing and may choose to divert.
This was seen in a recent Tweet concerning a plane containing Manchester City players, as they were set to return to Manchester following their Champions League clash vs Sporting Lisbon. Due to the high winds, they were forced to divert to Liverpool Airport.
What weather can Newcastle expect?
From midday expect heavy rain, with speeds very low compared to large parts of the country at 16mph.
At 2pm is when the wind really picks up, despite the rain easing off, the wind speeds will jump dramatically to 39mph, and will be at its strongest at 4pm, coming in at 52mph.
It is currently expected to remain dry in Newcastle from 2pm to 10pm, and the wind speeds will not fall below 40mph until 8pm.
The Met Office says: "Storm Eunice will bring rain and hill snow first thing, before clearing away northeastwards to allow a brighter spell to develop during the morning. Further wintry showers arriving from the west during the afternoon. Gales developing later in the day. Maximum temperature 4 °C."
For the weekend: "A chilly start on Saturday, with some wintry showers, mainly on western hills. Elsewhere, it should be a largely dry day, with bright or sunny spells. Less windy. Feeling cold. Maximum temperature 7 °C. Early rain, heavy at times, clearing to blustery showers on Sunday. Widespread gales"