The Met Office has issued a rare red weather warning for parts of the south east and south west of England as well as Wales, as Storm Eunice arrived in the UK on 18 February.
The north of England has been hit with bad weather, with yellow weather warnings for wind in place for Newcastle throughout today, as well as snow predicted.
So when exactly will Storm Eunice hit Newcastle, and what weather can we expect?
When will Storm Eunice hit Newcastle?
The Met Office issued a yellow warning for wind, which covers Newcastle and some of the surrounding area.
This is currently in place from 7am to 6pm today.
Heavy rain, sleet and increasing wind gusts from around 3am signalled the arrival of the storm.
The early hours of this morning saw widespread snow which was heavy in places throughout the wider north east region.
This will clear quickly as spells of rain begin, which will later likely turn to snow as strong winds develop.
The gusts are set to peak at 50mph at around 3pm but will only gradually ease throughout the rest of the day and could still be above 30mph 10pm.
What is a yellow weather warning?
The Met Office has told us to expect the following:
There is a chance of some damage to trees and also perhaps to buildings, such as tiles blown from roofs
There is a chance of longer journey times or cancellations as road, rail, air and ferry services are affected
There is a chance that some roads and bridges could close
There is a small chance that power cuts may occur, with the potential to affect other services, such as mobile phone coverage
There is a small chance that injuries could occur from large waves and beach material being thrown onto sea fronts, coastal roads and properties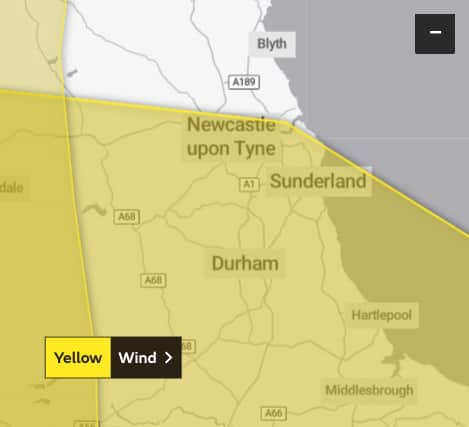 What is the Newcastle weekend weather forecast?
The strong winds will ease off throughout Friday night and into Saturday morning. It will feel as cold as -3°C at 6am on Saturday and there could be some snow showers.
Temperatures will be around 4°C throughout Saturday and it should be a dry but cloudy afternoon and evening.
Sunday will be a wet start but the temperature could rise to around 11°C. Strong wind gusts look set to return in the afternoon and into the new week and there may be scattered wintry showers on Monday.