Ronnie O'Sullivan claims snooker is at "the worst place it has ever been" & hints players should go on strike
O'Sullivan is widely regarded as the greatest snooker player of all time and is the current world number one - but has ripped into the current state of snooker and those in charge.
Watch more of our videos on Shots!
and live on Freeview channel 276
Visit Shots! now
Snooker legend Ronnie O'Sullivan has hinted that players should go on strike as he bemoans the lack of prize money currently available in the sport. It comes days after he pulled out of the World Snooker Tour Classic due to injury.
Ronnie, often referred to as 'The Rocket' due to his quick shot decisions and rapid break building, is arguably the greatest player to grace the sport. He has won the World Snooker Championship seven times, a modern-era record he holds jointly with Stephen Hendry.
But now, the current world champion and world number one has launched a devastating attack on the state of snooker and those running it – claiming the sport is in "the worst place it has ever been".
His scathing remarks come just under a month before he launches his bid to win a record eighth world title at the Crucible Theatre in Sheffield. He moved level with Hendry last year, beating Judd Trump in the final.
Speaking to The Sportsman, he said: "Listen, snooker is in a bad place. It's in trouble. Forget Turkey [Turkish Masters recently cancelled]. This needs at least another £50 million a year just to make it a proper tour.
"When you look at the number, it's bad. When you look at £10 million prize money for 25 events across the year for 128 players, it's never going to be good. It needs at least triple that to make it work. Maybe you do need some proper people like Liberty [in Formula One] or someone with the vision to bring it up to date.
"You look at the people actually managing the game, they are not the brightest sparks either. So you can't see them digging themselves out of it. But you don't have to be Einstein. It is probably in the worst place it has ever been. The image of the sport, it's a bit like a pub sport now.
"Look at some of the tournaments. The Shootout. Some of the venues we play at. It's lost its charm of what it used to be. It's cheap. If they can be honest enough with themselves, maybe the people that run the game need to say: 'We have taken it as far as we can'.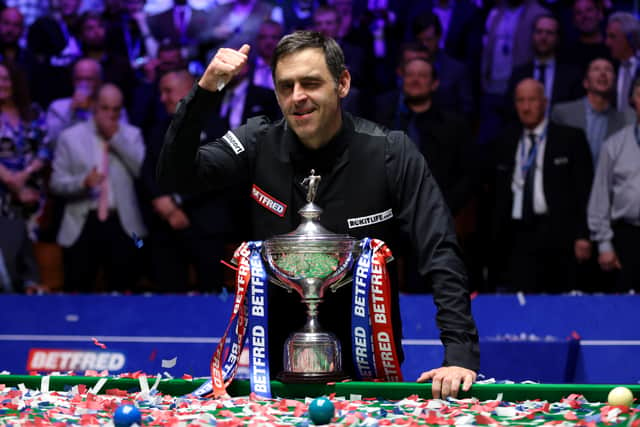 "If they really have the love of the sport they would hand it over to somebody else that had higher ambitions. It is probably as bad as it has ever been also because of the betting scandal.
"At Wimbledon it is probably £50 million for the one event. You look at golf, minimum first prize of £1.2million and the top players don't even turn up for that. We are playing for the winner gets £80,000 most weeks and the runner-up gets £35,000. It's bang in trouble.
"If you want us to play in this tournament for six days then this is what we expect. This amount of prize money. Two weeks for this amount of prize money."