Sex Pistols: Slip of paper used to promote one of band's first gigs in 1976 could fetch thousands at auction
A flyer advertising one of The Sex Pistols' first ever gigs could fetch thousands at auction after it was discovered gathering dust in a drawer.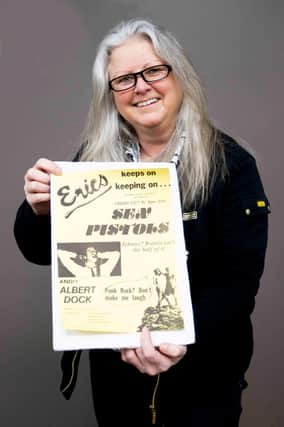 A flyer used to promote one of the Sex Pistols' first-ever gigs nearly 50 years ago could fetch thousands at auction after being found gathering dust in a drawer. The slip of paper was created for the punk band's first show in Liverpool at Erics, based in the citys' famous Cavern Quarter, on October 15, 1976.
It was kept by retired musician Martin Watson, 67, whose band Albert Dock supported the Pistols that night when they played to just 50 people. Weeks later on November 26, 1976 the Pistols released their first single, Anarchy in the UK before going on to shock the world with their music.
The yellow poster bears a caption reading 'Johnny? Rotten Isn't the half of it' and a speech bubble declaring 'Punk rock? Don't make me laugh". Mr Watson, who also toured the USA and Europe with Joe Jackson and the Who with another of his bands The Yachts, found the slip in a drawer during a clear out.
It is due to fetch between £750-£1,000 when it goes under the hammer at Hansons Auctioneers, in Etwall, Derbyshire, on March 15. Martin, of North Lincolnshire, was 21 in 1976.
He said: "I've decided to auction the poster because there are lots of Sex Pistols purists out there who would love to own this piece of history. Plus I can't divide a piece of paper between lots of nieces and nephews.
"Johnny and Glen were just young lads like me looking to make their mark in the music business. I chatted to them both. They looked great with their short hair and punk clothes.
"Most people at Erics were still in flares with long hair. They probably all went to the barbers the next day.
"The poster has been sitting under lining paper in a drawer for the last 47 years and I came across it during a clear out. I have lots of memorabilia from my seven years in New Wave bands in the 1970s and 80s."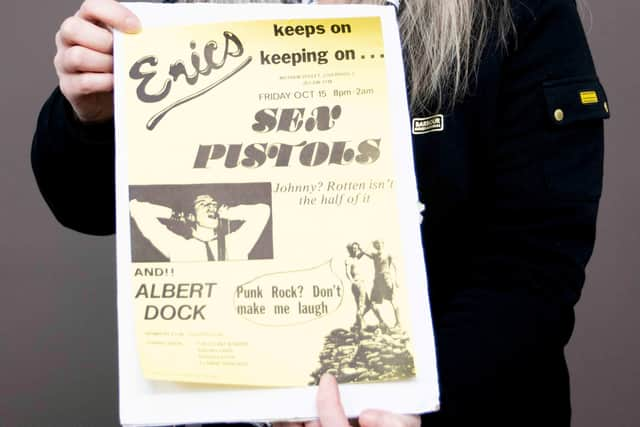 Martin, an art student in Liverpool in the mid-70s, was part of a transitioning music scene when the city was a melting pot of new talent. The Pistols' gig attracted the likes of Holly Johnston and Paul Rutherford, both later of Frankie Goes to Hollywood, and Pete Burns of Dead or Alive.
Martin, who also supported Elvis Costello and Boomtown Rats, added: "Music got back to basics with gigs at small venues where fans could get close to the bands. The Sex Pistols were a real band, a breath of fresh air. Punk gave a kick up the backside to the prog-rock era.
"The thing I remember most that night is Glen Matlock breaking a string on his bass guitar during the show. That's really hard to do unless you're playing very powerfully. I remember a 10-minute hiatus to give him time to change it and the crowd getting restless.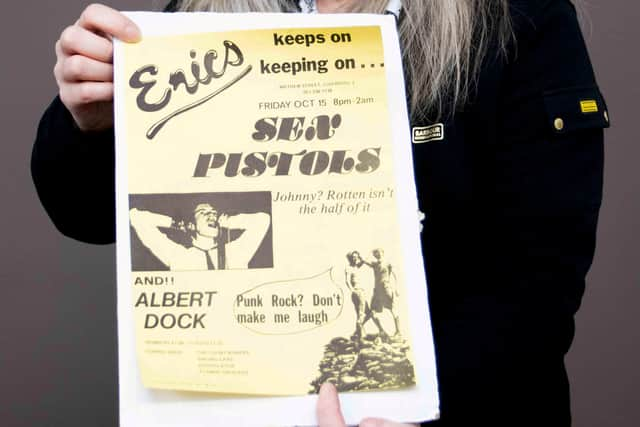 "Johnny gave them some stick back, the message being 'what does it matter, who cares?"At the time I never realised how important punk would become. It's still the most talked about music era.
"It was an exciting time. Punk gave us a chance to express ourselves. Yachts were initially signed to Stiff and later Radar and recorded two sessions for John Peel at Radio 1. Our vocalist/keyboard player Henry Priestman went on to join the Christians."
Claire Howell, music memorabilia consultant at Hansons Auctioneers, said: "This is a very important piece of Pistols and punk history. I'm aware of only one other original Erics Sex Pistols poster and it sold for £900 at auction in 2008.
"It's important because this performance came at a pivotal time for the Pistols.Less than a month before, they'd signed a five-year management contract with Malcolm McLaren's Glitterbest Ltd.
"Three weeks prior to this show, Nick Mobbs of EMI saw the band for the first time, and on October 8, just a week before the gig at Erics, the group signed to the label. Days before the gig the band recorded an early version of Anarchy in the UK.
"Several gigs followed from October 12 with shows in Dundee, Wolverhampton and Birkenhead before the Liverpool performance.The Pistols were on the cusp of making it big. They went on to spearhead the 1970s punk movement.
"It was the calm before the storm. A Liverpool Echo review said: 'This gig certainly didn't have the same impact as the Pistols' Free Trade Hall gigs in Manchester – in fact it almost went unnoticed as there were only about 50 people there'.
"Erics opened on October 1, 1976 and among the first bands to play were the Runaways and the Stranglers. Then the Pistols pogoed into town.
"Just after the Erics gig, the Pistols recorded the version of Anarchy in the UK that EMI released.  On October 22, Stiff Records released The Damned's New Rose, the first-ever UK punk record, beating the Pistols' debut single by about a month."
The Sex Pistols formed in London in 1975. The original line up was Johnny Rotten, guitarist Steve Jones, drummer Paul Cook, and bassist Glen Matlock. Matlock was replaced by Sid Vicious in 1977.
Under Malcolm McLaren's management the band both captivated and appalled Britain. May 1977 single God Save the Queen was banned by the BBC and nearly every independent radio station, making it one of the most censored records in British history.
Though the Pistols' initial career lasted only two-and-a-half years, they were considered ground-breaking. In 2006 they were inducted into the Rock and Roll Hall of Fame but, in typical punk style, refused to attend the ceremony.