This Morning viewers left confused by Gateshead woman's reaction to mega Spin to Win jackpot
The money from Wednesday's show had rolled over after no one answered their phone.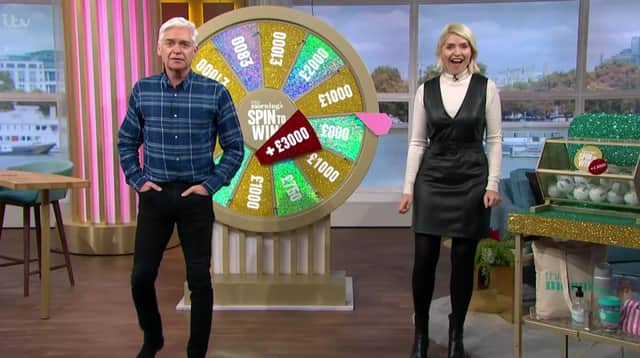 This Morning viewers were shocked at a Gateshead woman's reaction to winning a mega jackpot on the show's Spin to Win game on Thursday morning.
Hosts Philip Schofield and Holly Willoughby play the game every weekday morning they host the hit ITV show.
The duo call viewers who must answer the phone with catchphrases such as 'Good Golly Miss Molly' and 'Yabba Dabba Doo'.
Successful contestants then get a free spin of the wheel and a chance to win a jackpot of £3,000 on offer.
During Spin to Win on Wednesday, November 24 no contestants managed to pick up their phones, leaving Philip and Holly bemused.
As a result the show rolled over the £3,000 maximum prize onto Thursday's game, meaning the jackpot moved to a total of £5,000.
It looked set to be another day of missed calls as the This Morning hosts rattled through unsuccessful viewers.
Eventually Kelly from Gateshead picked up the phone and gave the correct catchphrase.
She chose to spin the wheel, which landed on £1,000, meaning she took home a total of £4,000.
Stunned at her win, Kelly found herself lost for words and struggled to speak back to Philip and Holly.
She managed: "The kids will be so happy, I've got three altogether."
However, some viewers felt the winning contestant should have been more happy with her haul.
One wrote: "You've just won 4 grand just before Xmas, I'd sound a bit more thrilled..."
Another said: "Are spin to win winners ever actually happy to win? Jesus!"
One other Twitter user said: "Kelly sounds absolutely delighted to have won £4,000. Bet she's fun at parties."