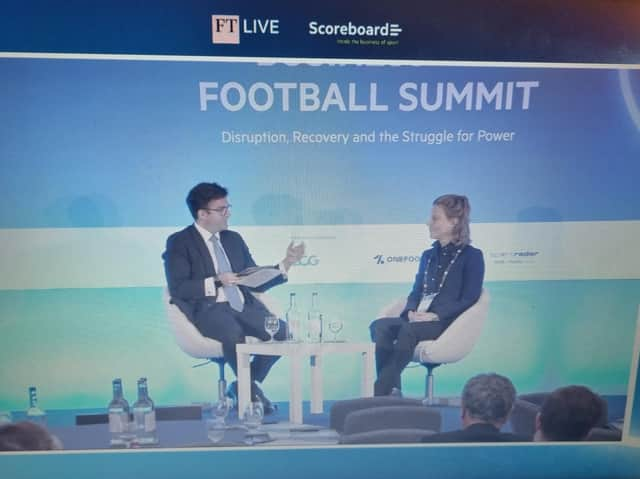 Co-owner Amanda Staveley has revealed her true job title at Newcastle United - and that of husband and fellow PCP Capital Partners director Mehrdad Ghodoussi.
Speaking at the Financial Times Business of Football Summit, Staveley revealed both herself and Ghodoussi have been sharing responsibilities as Interim Co-Chief Executive, while the club's hunt for a permanent CEO goes on.
And when quizzed by NewcastleWorld on how long they will keep that role - and how long a new appointment will take, she said: "Hopefully (that decision) is not too far along."
In light of the news that Roman Abramovich has put Chelsea up for sale, Staveley was asked if PCP looked to buy any other clubs in the Premier League or beyond.
And while she admitted to looking, once Newcastle United became a real prospect, there was no turning back.
"One great thing about taking four years to buy Newcastle was we had the great opportunity to look at every club, and that includes Chelsea," she said.
"It is a wonderful club and I love working with all of my Chelsea colleagues on the Premier League board but there was only one club for us - and there will only ever be one club for us.
"And we like the challenge of trying to buy something at 20th in the league and trying to get it to the top.
"Mehrdad and I, we were looking after I did Man City - I was there in an only advisory role. Through my career I was always keen to be part of a team to buy another club. I love football and I am passionate about the Premier League.
"We wanted to buy something we could really grow.
"We looked at a number of big clubs around Europe. And we got the chance to look at Newcastle, while looking at Liverpool. We went there and fell madly in love with the fans, the team and the passion. St James' is a really unique place."
From start to finish it took around 18 months for the United deal to be given the green light by the Premier League.
And while that was an anxious wait for many, it had its plus points for Staveley and PIF.
"It was a great road, a challenging road. And that gave us the opportunity to get to know each other and become closer as partners," she said.
"We wrote a business plan, we had a kind of, once we left Newcastle we realised we needed to grow, to grow Newcastle into a global brand. We needed a partner and we needed one with patient pockets. We presented it to Yasir Al-Rumayyan, our chairman. PIF work with us tirelessly every day."