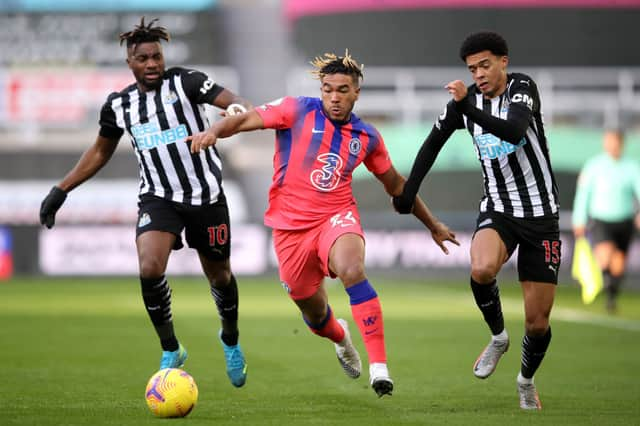 Newcastle United are set to be without Jamal Lewis for the remainder of the festive period, while the fitness of Allan Saint-Maximin is also a concern ahead of the visit of Manchester City on Sunday afternoon.
Lewis, starting his fourth game in succession, pulled up with a hamstring injury in the 12th minute during the 3-1 defeat at Liverpool and was replaced by Matt Ritchie at left-back.
It's a bitter blow for the former Norwich City man, who was enjoying a run back in the starting XI having last started a Premier League game in February before Eddie Howe's arrival.
Meanwhile, Saint-Maximin, deployed a central striker for the evening, limped off when replaced by Callum Wilson with just under a quarter of an hour remaining.
Eddie Howe on Allan Saint-Maximin
"I don't know at this moment in time," Howe said.
"With Maxi, I think he took a really nasty tackle. I don't know if his injury is related to that tackle or more muscular - I've got no idea.
"I did try and speak to him as he came off but didn't manage to get clear communication on what that was wrong, so fingers crossed for him.
"He's such a big player for us. We don't want to lose him for any amount of time."
Eddie Howe on 'bad' Jamal Lewis injury
Howe added: "It looks bad. It looks like a hamstring problem. It's a surprise with Jamal because he's so athletic. He's been excellent in terms of his athletic work for us so far.
"So early in the game, it was a surprise and obviously it was damaging to us to lose a sub so early in the match.
"Matt Ritchie came on and was fantastic in his place but certainly, it's not the time of year for us to lose players and fingers crossed it's only Jamal that will probably go into the Christmas period in doubt.
"But we still need to check a few others who are carrying things today."