Newcastle United Women won't be promoted from FA Women's Division One North this season but on a historic afternoon at St James' Park, where 22,134 packed through turnstiles, the former was merely an afterthought.
The Lady Magpies did their job with a 4-0 win over Alnwick Town but another campaign in the Women's fourth-tier was confirmed before the full-time whistle ran out on Tyneside after Liverpool Feds beat FC United of Manchester 6-1.
But that, in the grand scheme of things, was pretty irrelevant. This was a day when the Geordie people came out in their thousands to watch Becky Langley's girls inspire the next generation and put Newcastle United Women firmly on the map following years of desertion under Mike Ashley.
Like Eddie Howe's first-team, this is just the start of an exciting new era for the Lady Magpies. Amanda Staveley has a vision for Langley's side to be competing in the Women's Super League in five years' time. From next season, after five years of being funded by the Newcastle United Foundation, they'll come under the wing of the club. Investment will follow. And so will many more afternoons at St James' Park.
Mehrdad Ghodoussi, who was joined in the directors' box by Howe, pleaded with fans on social media to support the Ladies team - a bargain £3 entry - and it's fair to assume the attendance probably surpassed his expectation. Or did it? Having co-owned the club since October, he knows all about the passion of the Geordie people. This was just another glowing example as supporters piled into the Leazes End, East Stand and Gallowgate End. Congestion at the turnstiles meant kick-off was delayed 15 minutes.
The Lasses were handed a hero's welcome when they emerged from the St James' Park tunnel - Wor Flags superbly prepared a 'Howay the Lasses' banner - before the crowd stood for a minutes' applause to remember former goalkeeper Dominyka Podziute, who sadly passed away last month.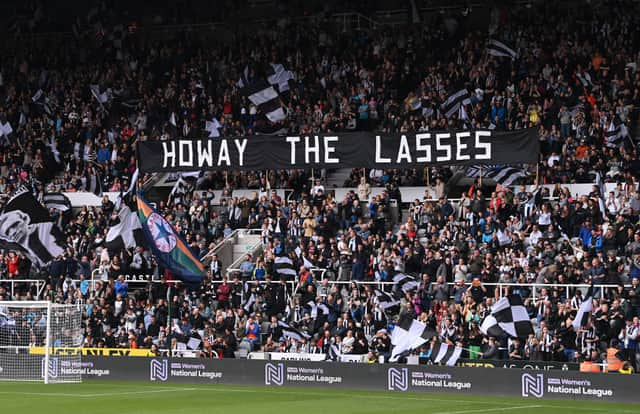 Alnwick Town weren't just there to make up the numbers. They make tough of it for Newcastle in the opening stages before Katie Barker, donning the number nine on her back, broke the deadlock on 28 minutes. Quite fittingly, she wheeled away in the famous Alan Shearer celebration - his 20th goal of the campaign in just 17 appearances.
St James' Park was full of feel-good stories throughout the afternoon but perhaps long-serving captain Brooke Cochrane claimed the best individual tale. After Georgia Gibson was fouled inside the area, Cochrane, who is retiring at the end of the campaign, dispatched the penalty into the bottom left corner. Around this time last year, Cochrane was still recovering from an ACL injury. In her programme notes, she said playing at St James' Park would be the proudest moment of her career. What a way to mark.
Two-nil by half-time, that tally was doubled by the hour-mark. Gibson added a third with a lovely solo run that Howe stood up to applaud. Then, another penalty went in United's favour. Beth Guy missed her spot-kick first time around but made no mistake when referee Melissa Cairns ordered it to be retaken after Alnwick goalie Katy Stark stepped on her line.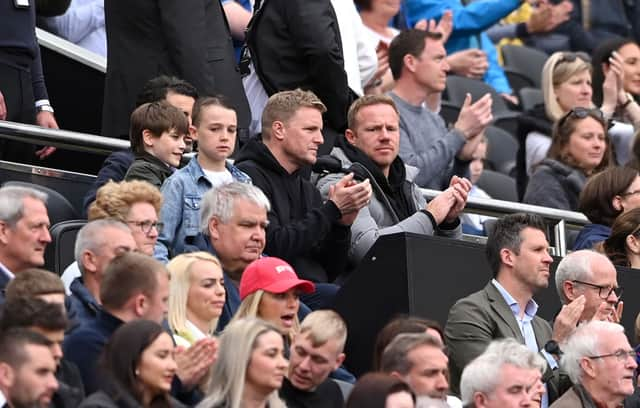 If there was anything to hamper the day, it was that the Lady Magpies officially missed out on promotion following Liverpool Feds' victory at home to FC United. But Langley's side will come back next season stronger and united more than ever thanks to the support of Staveley and the new owners.
Newcastle United Women have already amassed their highest ever points total in Division One North. And there is still time to build on that on the final day of the season against Barnsley next Sunday.
Newcastle United Women: Donnelly, Cochrane (C), Guy, Watt, Packham, Wilkinson (Missen), Barker, Gibson (Ferguson), Elson (Harland), Skelton (Robinson), Nelson. Subs not used: Spraggon.