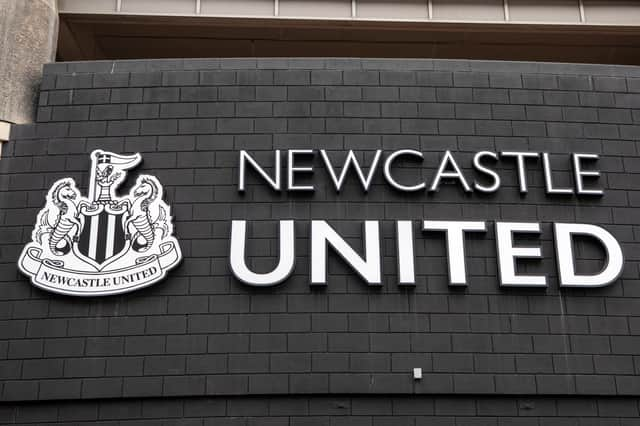 To shamelessly utilise the words of former Prime Minster Winston Churchill, the current state of Newcastle United can be best described as "a riddle, wrapped in a mystery, inside an enigma."
The vast majority of outsiders - including attention-seeking pundits looking for their moment in the sun - see an extension of the chaotic reign of Mike Ashley, an under-performing squad that looks prime for relegation and a club on the brink of implosion.
Yet the mood on Tyneside seems a complete contrast to the unquestionably difficult situation Eddie Howe and his side find themselves in at St James Park at this point in time.
A 1-0 win against Burnley was met by scenes akin to an FA Cup Final triumph, the removal of numerous advertising hoardings branding the name of a sportswear shop was lauded and the washing of windows at St James was seen as something remarkable.
The matchday buzz - so often missing during the reign of the previous ownership - is back and there is excitement about what lies ahead as the new owners look to build a club from the skeleton organisation left behind.
There are - as Ian Dury and the Blockheads famously sang - reasons to be cheerful for United supporters as a crucial second half of the season arrives.
1. Despite their poor league form, United are still only three points from safety
This has, by some distance, been the worst start made by a Newcastle United side in Premier League history.Ahead of that win over Burnley, the Magpies had accrued only seven points from their opening 14 games of the season.
Only on six occasions has a club made a worse start to a campaign and on each occasion they spent the following campaign in the Championship.All six of those clubs - Swindon Town (1993/94), Sunderland (2005/06), Derby County (2007/08), QPR (2012/13), Aston Villa (2105/16) and Sheffield United (2020/21) - were all but down by the time Santa Claus arrived.
Yet in a weird quirk of the current season, Eddie Howe's side find themselves just three points shy of safety ahead of the home game against Manchester United.
It should be added United have played more games than five of the six other clubs that are yet to reach the 20-point mark - but they are still in touch despite having a difficult December fixture list.
2. The January transfer window is just days away
Ever since the consortium fronted by Amanda Staveley and the PIF took control of the club in October, the talk on Tyneside has been dominated by how the new ownership will look to revitalise the United squad.
The United owners have taken advice from a number of sources, as well as holding meetings with their own scouts throughout the last two months.
The likes of England defenders James Tarkowski, Kieran Trippier, Lille centre-back Sven Botman and Lyon striker Moussa Dembele are all possible arrivals throughout the coming month.
Many weird and wonderful - and some not-so-wonderful - names will be thrown United's way over the next few weeks as agents look to take advantage of the new-found wealth at St James Park.
An intriguing month lies ahead and United simply MUST end January with more depth and quality in their squad than the one Eddie Howe is working with at present.
3. Joelinton is finally showing signs of life
It is stating the obvious to say Joelinton has struggling during his first two seasons on Tyneside.
Early signs were promising as the former Hoffenheim player scored in the only goal in a surprise win at Spurs - but it was something of a false dawn as Joelinton struggled to adapt to life in England.
His cause was not helped by the fact he was routinely played out of position as United utilised him as a traditional number nine - a position where he was rarely used at his former clubs.
As such, it was no coincidence to see his best performances in black and white come when he was used alongside another striker as a wide forward or a deep-lying forward.
Eddie Howe's arrival has provoked something of an upturn in form from Joelinton and his recent performances have rightly been praised by fans and pundits alike.
It is still early days, and nobody should get too carried away, but there are signs that Joelinton is starting to find some confidence and consistency under Howe.
4. St James Park (and Wor Flags) are back
For best part of the last 13 years, St James Park had become nothing more than a lifeless bowl used as a cheap marketing tool for a discount sportswear store.
Ambition and drive were conspicuous by their absence and the real belief that a better future could lie in wait drained away from the United supporters.
Still, they made their way through the town week-in, week-out in great numbers - but matchdays had become a chore, a slog and, more often that not, were carried out through a sense of duty.
That has all changed since the PIF/PCP/Reuben takeover in October that heralded the reappearance of the much-missed Wor Flags displays and - even more importantly - the return of hope and belief.
Results and performances on the pitch need to improve over the second half of the season if this new look United are to begin their rebuild amongst the elite - and there is no doubt supporters have a big part to play.
5. A real opportunity lies in wait
Something of a perfect storm could lie in wait for Newcastle in the new year.As mentioned earlier, the January transfer window could and should be a transformative one for Eddie Howe and his playing squad.
But after a month facing the likes of Liverpool, Manchester United and Manchester City, a hopefully new look Magpies side are faced with a run of fixtures that presents an opportunity to boost their bid for survival.
In terms of league fixtures, a long trip to Southampton is followed by a home game with Watford as United meet the only two sides in worse form than themselves.
A visit to struggling Leeds is next on the agenda followed by consecutive home games against Everton and Aston Villa - both of which come in the weeks following the closure of the window.
Will it be a case of new year, new hope?