Newcastle United's newest executive has already given Magpies supporters a serious indication of what they can expect during his time at the club.
Friday evening brought news of the appointment of Atlanta United president Darren Eales as the new chief executive officer at St James Park.
The former West Bromwich Albion and Tottenham Hotspur executive has been an integral figure during the impressive rise of Atlanta on and off the pitch during their formative years.
Led for large parts by current Magpies star Miguel Almiron, the 'Five Stripes' have won the MLS Cup, US Open Cup, MLS Eastern Conference and the Campeones Cup during the first five seasons in existence.
But their on-field progress was dwarfed by off-field support as the local community rallied around their newest sports club in spectacular fashion.
With an average gate of around 45,000 during their first five years, United have quickly become the best supported club in the MLS and rank above many of Europe's biggest clubs when it comes to average attendances.
That backing has been nurtured by the positive relationship Eales forged with the local community during the club's early days and fostered during the time that has passed.
Speaking to the Football Business Podcast earlier this year, he said: "What you realise quite quickly is, you just let the supporters go with it and you help them with areas where things are working.
"The rituals they enjoy, we lean into, so the tailgate, every match, I go to the tailgate and I do that for a number of reasons.
"One, because that's how we built the club, we built the club in grassroots, going in and having a drink with our supporters, meeting them where they were.
"Secondly, for us, we did a great job having a connection between our front office and the supporters.
"What I don't want to do is now we are a top ten club in the world for attendance, I don't want to suddenly go into our ivory towers and say 'job done, we are just going to let you guys get on with it.
"For me, it's great, I get real-time feedback that's not filtered through five layers.
"I hear if they are upset about the beer in section 132, I'll quickly get told when I'm in that tailgate and you're sending a message to all of our associates that the way we built this club, the way we have success, it's not accidental.
"We literally had to win the hearts and minds of every supporter."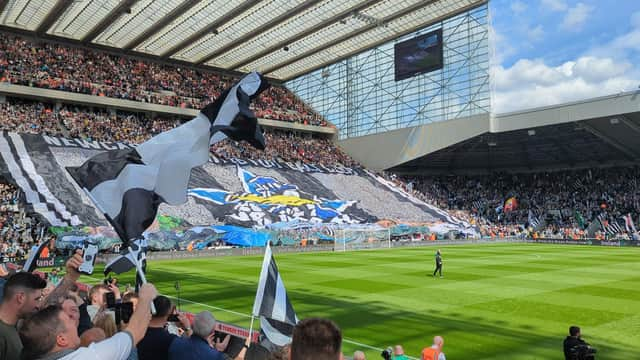 After years of at best sporadic communication from key figures at the top end of the club, Newcastle supporters have craved an improved relationship with those in charge at St James Park.
Of course, the departure of the club's former owner and the takeover by a PIF-led consortium has led to hopes a more positive relationship can be be found.
The early signs have been promising, with Amanda Staveley, Mehrdad Ghodoussi and Jamie Reuben all enjoying positive links with supporters, the Wor Flags group, Newcastle United Supporters Trust and the local community.
That seems to be something that will be encouraged by Eales, if comments regarding the Atlanta United supporters are anything to go by.
"They (supporters) want to have ownership, the fans of Atlanta United, they own they club, they are the ones that drive what happens on game days," he explained.
"They don't want to be told what to do, they want to be their own bosses, so to speak.
"That was something we were able to tap into.
"In some respects, an advantage of starting a club from scratch was we had that blank sheet of paper.
"We have six core values that Arthur Blank (Atlanta United owner) brought from his Home Depot days and one of them was 'listen and respond'.
"For me, Arthur Blank is a great mentor because, it's a very interesting proposition, it sounds simple.
"Listen to your customers, listen to your supporters and respond and we talk about it a lot.
"Listen to what supporters are saying, not what you think supporters are saying."
The full interview can be found here.