Callum Wilson is set to re-ignite a childhood rivalry with a member of the Crystal Palace squad as Patrick Viera's side travel to Tyneside for the Capital One Cup fixture tonight.
The Magpies talisman's recent playing history is well known by supporters. Before arriving at St. James' Park, Wilson spent six years at the opposite end of the country making 171 appearances for Newcastle United">AFC Bournemouth between 2014 and 2020, netting 61 goals.
Rewind to February 1992 and Wilson was born not in Newcastle nor Bournemouth, but in Coventry. As a youngster, the striker would work his way up through the academy at Coventry City before making his professional debut in 2009.
Whilst honing his trade in the youth set-up at Coventry, Wilson and his peers would play matches against local rivals Leicester City, which is where he first came across one of Patrick Viera's most important midfielders, Jeffrey Schlupp. The Eagles' man was born in Germany, but worked his way up through The Foxes' youth system between 2005 and 2010.
On this week's Footballer's Football Podcast, Callum Wilson spoke with West Ham United striker Michail Antonio, who faced Schlupp and the Palace side last weekend. The Hammers lost 2-1 at home as a 94th-minute goal from Michael Olise saw the South London side run away with all three points.
Antonio said: "Patrick Viera is smashing it. The guy has got Crystal Palace playing some free-flowing football. You can see the flicks and tricks, Schlupp in the midfield - I have never seen that guy as a midfield player in my entire life but the boy is doing it and doing it well!"
At that moment Wilson chimed in himself to admit that he too knew Schlupp better than some may think thanks to those clashes as budding young footballers.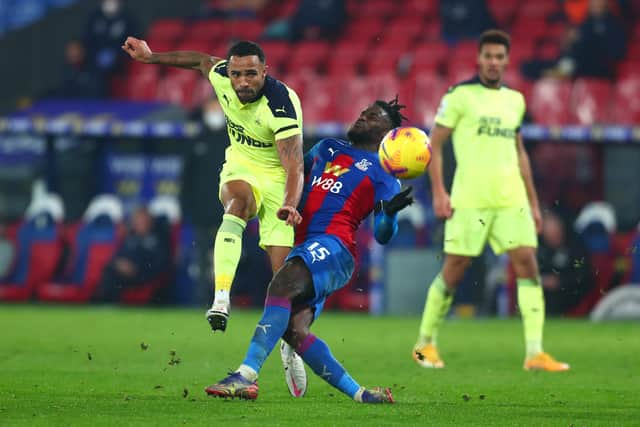 Wilson said: "When we were younger we used to play Coventry vs Leicester academy and he used to play as a striker, then he was left back from all those years and now he's a centre-mid. I don't know what's happening. He's the ultimate utility player really."
Newcastle United meet Crystal Palace in the third round of Capital One Cup at 7:45 pm tonight at St. James' Park.