Newcastle United fans have voted in an overwhelming majority to show their support for a major change to the stand structure at St James' Park in years to come.
The Newcastle United Supporters Trust has published findings collected from a survey of nearly 3,000 members that looked into how fans want the club's operations to change in the near future.
One of the questions put to Supporters Trust members was whether supporters were in favour or against introducing safe standing at St James' Park.
The club has shared its "long-term commitment" to introduce safe standing in the cathedral on the hill and that is a decision that Newcastle fans want.
A total of 85% of the Trust's members voted in favour of safe standing with just 6.1% of people against the idea. 8.9% of respondents were unsure of their stance on the matter.
Newcastle United already installed rail seating in the away end of the ground ahead of the 2022/23 season but is acting on calls from fans, including Wor Flags, to implement safe standing in the home end once again.
The club addressed the matter in an email to season ticket holders earlier this year. It read: "Newcastle United is inviting supporters to provide their views on the prospect of safe standing at St James' Park.
"By participating in this survey, you will provide us with important data to help us understand how much of a priority the implementation of safe standing is for Newcastle United fans.
"We are keen to gain a better understanding of how important it is to you as we plan for the seasons ahead and look to provide facilities most reflective of our fans' needs. Thank you for your participation."
The Supporters Trust research also comes after Newcastle and Manchester United fans were both awarded standing ticket allocation for the Carabao Cup final last month.
It was the first time safe standing was used at a major final since Wembley Stadium opened in 2007.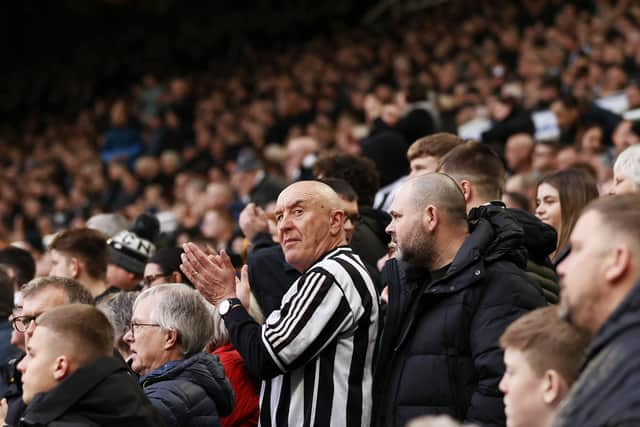 Newcastle and Man Utd were both given 867 safe-standing tickets to sell, making a total of 1,734 supporters.
The Supporters Trust also shared other responses from its survey on social media. Those included a very split response from fans on whether the club should make standard entry away tickets available to players' families and friends - 36.9% in favour with 44.6% against.
Fans also voted that Newcastle's sale of Carabao Cup tickets was largely fair with only 22.9% of respondents not happy with how admission was allocated.