Pep Guardiola has claimed Newcastle United were one of nine Premier League clubs that wanted Manchester City banned from the Champions League two years ago.
The reigning Premier League champions have hit the headlines in recent days after they were charged with 100 breaches of financial regulations between 2009 and 2018. Potential punishments could include a fine, points deduction and even expulsion from the top tier.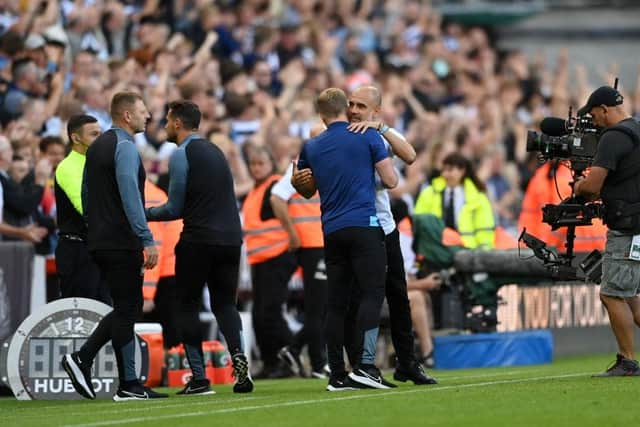 City initially expressed their surprise over the charges but said they would 'welcome the review of the matter' and 'look forward to this matter being put to rest once and for all".
Guardiola had his first opportunity to give his own take on the events of the last week on Friday morning and he made a surprise claim Newcastle were among a number of clubs that wanted sanctions placed on City when they were initially banned from the Champions League by UEFA after being found to have misled the governing body over breaking financial fair play laws.
Speaking in his pre-match press conference ahead of Sunday's home game with Aston Villa, the City boss said: "Nine teams - Burnley, Wolves, Leicester, Newcastle, Spurs, Arsenal, Manchester United, Liverpool, Chelsea - (wrote a letter wanting us) out of the Champions League, that they wanted that position.
"It's not an unprecedented story, it's the second time. We lived that before, two or three years ago. You accuse us - we should be out, but between those nine teams before and the 19 teams now, between their word and the word of my people, I'm sorry but I rely on the words of my people."
There had also been suggestions Guardiola would end his seven-year reign at the Etihad Stadium if City were punished for their breaches of regulations.
Indeed, the former Barcelona manager had claimed he would do so last year, saying: "If you lie to me, the day after I am not here. I will be out'."
However, when asked about his own future on Friday, he claimed he remained with the club no matter what happens.
"I am not moving from this seat, I can assure you," he said.
"I want to stay more than ever. We have trained like normal to try to beat Aston Villa. We will try to play well against a team with a good manager with a lot of experience. The players will be focused on our game, for sure."