A Newcastle restaurant has achieved its self-fulfilled prophecy of becoming a Premier League eating hotspot after a visit from Newcastle United star Bruno Guimaraes earlier this week.
Victors restaurant on the Quayside opened last summer after success in the North West thanks to its 'perfect for all occasions' mantra and Instagram-ready interior.
The restaurant, which welcomed customers for the first time last July having taken over the old Las Iguanas site, serves sushi, steak, champagne and cocktails in an American-style setting.
When opening, Jan Coker, sales and reservations manager at Victors, said: "Victors is inspired by New York Hamptons.
"Diners can expect vibrant dishes that are freshly cooked as well as beautiful cocktails.
"The venue is vibrant, sexy and full of style - there really is nowhere like this in the city. Visitors can also expect plenty of spots to capture those perfect Instagram moments."
The chain was already thriving at sites in Chesire locations Hale and Alderley Edge, as well as Oxford.
Those two neighbourhoods in the North West are known for their wealthy residents including Manchester United stars Marcus Rashford, Luke Shaw and even David Beckham in the past, as well as Man City defender Kyle Walker.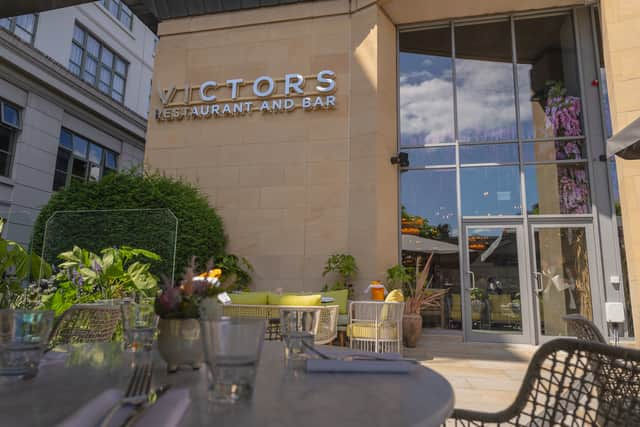 Victors found so much success in the area that its two sites are just a 25 minute drive from one another.
Jesse Lingard has been seen dining at the Alderley Edge venue, and leaving in his £400,000 Lamborghini last month and Manchester United star Alejandro Garnacho reportedly hired out the whole of the Hale site to celebrate his new contract in April too.
Previously, Wayne Rooney and The Real Housewives of Cheshire have also dined out at Victors before the Newcastle venue opened.
Now, the Quayside restaurant is following in the footsteps of its Cheshire siblings as Newcastle midfielder Bruno Guimaraes took his family out for a Mother's Day celebration last weekend.
Guimaraes was also celebrating his marriage to Ana Lidia Martins after the two were married by proxy in Brazil last week ahead of their wedding this summer, represented by family, lawyers and cardboard cutouts of their faces.
Posting to Instagram, the midfielder said: "Our first Mothers Day of many to come!! Too blessed to complain about anything Thank God for my family Proud of what we are building and proud of you @analidiamartinss.
"I love you and thank you for being this mommy to Matteo."