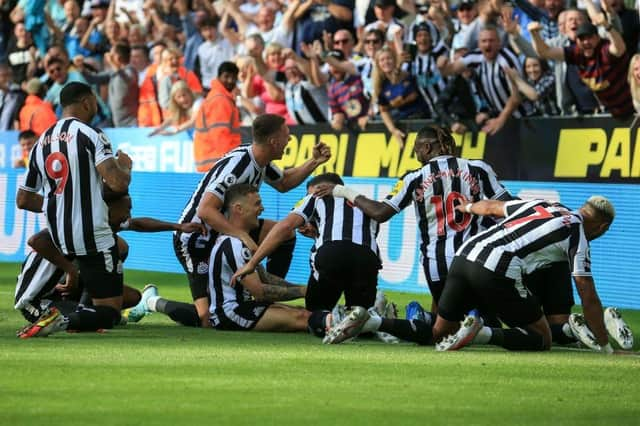 Newcastle United return to action after their draw with Manchester City when they face Tranmere Rovers (Photo by LINDSEY PARNABY/AFP via Getty Images)
The Magpies embark on the road to Wembley when they visit Tranmere Rovers on Wednesday night as Eddie Howe's side look to become the first United side to reach a major cup final in 24 years.
Their immediate aim will be improving on a dismal record in the League Cup after reaching just one final in the competitions 61-year history.
That came in 1976 when United suffered a 2-1 defeat against Manchester City - and seven quarter-final appearances represents the closest the Magpies have achieved to a return to Wembley.
However, hopes have been raised that a genuine push for silverware can be made in the near-future after a transformative year at St James Park.
The successful takeover by a PIF-led consortium brought a return of ambition and excitement that has only been enhanced by a promising start to the season.
The Magpies are unbeaten in their opening three Premier League fixtures and they head to Merseyside on the back of Sunday's titanic 3-3 draw with reigning champions Manchester City.
Former Arsenal and Birmingham City star Upson has been enthused by the events of the last year and believes the St James Park faithful are playing their part in an exciting time for the club.
"It's one of the biggest transformations in a football team in the last 12 months," he told Sky Sports.
"Obviously, they've had a lot of investment, but they've put really good people in places.
"Eddie Howe is a very good manager, they've bought sensible players that are giving good value like Kieran Trippier, Dan Burn.
"They're the type of players that you can have around a dressing room that are solid, and then you have the likes of Saint-Maximin, Wilson, they've got a good balance about them.
"They have a support that is so hungry to want to achieve something and win something like Eddie Howe said, that it could be something quite special happening.
"It's a lot of work and it's a lot of getting it in place, but that fixture is the first time Newcastle have played Manchester City at home and thought they could get a point or even win today."
Newcastle will hope to land a place in Wednesday night's third round draw with a win at Prenton Park before turning their focus to Sunday afternoon's visit to Wolverhampton Wanderers.