While there are a number of Newcastle fans who don't look back on Kluivert's one season on Tyneside too fondly, they perhaps have him to thank for Botman joining the Magpies.
Signing Ligue 1 title-winning defender Botman was no easy task for United after seeing three bids rejected by Lille in January before rivalling AC Milan for his signature this summer.
Persistence paid off for United however, and Botman arrived just in time to begin a full pre-season with his new teammates.
Naturally, Botman is learning more about the city and the football club each day. But prior to his move, the Netherlands under-21s taped into the advice and knowledge of Kluivert, who spent the 2004-05 campaign on Tyneside and scored 13 goals.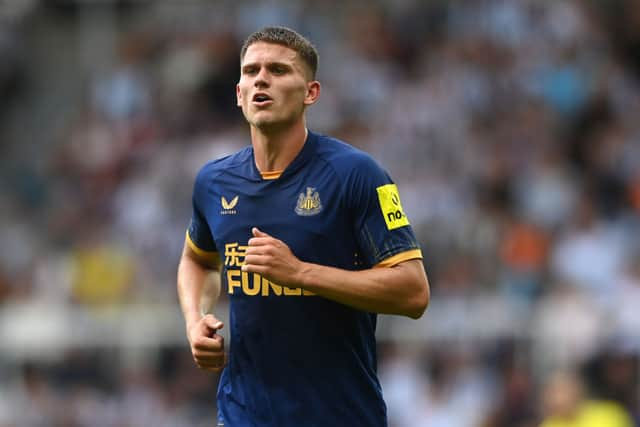 "I spoke with one former Newcastle player in Patrick Kluivert," Botman revealed. "Patrick played just one season here but he told me where he lived and what life is like in Newcastle.
"He told me what the Premier League is like and how it is different from other countries and competitions.
"He told me that with my profile that I would fit in here so that was good advice.
"I got opinions and views on the club and the league.
"I have the same agent as Patrick and I played with his son Justin."
Both being Dutch, Botman and Kluivert's paths have crossed, with the former's son Justin starting his career at Ajax alongside Botman.
Justin left Ajax in 2017 and moved to Italy to join Roma. Botman also had the opportunity to do the same, although with Milan instead, but opted to pursue his Premier League dream at Newcastle.
Botman said: "In England, Newcastle United is a big club. In Europe, AC Milan are the team with the history in European competitions and playing regularly in the Champions League.
"But I know Newcastle are a really big club, and with this project and the goals we have, if we can achieve that in a couple of years, I think Newcastle will become a big club in Europe, that every player will want to go to.
"What you know automatically about Newcastle is that they are a very big club in England and they have played Premier League football for a long time.
"They normally play in the top-flight and I know last season was a little bit tricky.
"They have had some good seasons and they have been back and forwards too.
"But with this new project I think we can make new history. I certainly hope so."
Newcastle kick off their Premier League season against Nottingham Forest at St James' Park on Saturday.
Botman, having impressed throughout pre-season against 1860 Munich, Mainz 05, Benfica and Athletic Bilbao, is hoping he has done enough to make Eddie Howe's first starting XI of the season.
The defender faces competition from Dan Burn, Fabian Schar and Jamaal Lascelles.