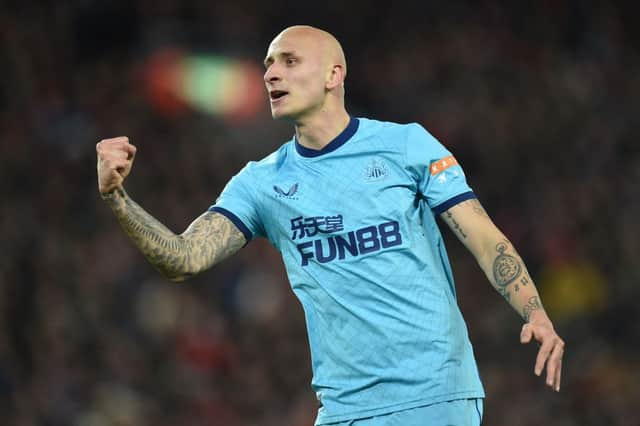 Shelvey has struggled with muscular injuries this term after a calf and thigh issue forced him to miss pre-season and then the early stage of the 2021/22 Premier League campaign.
However, the former Liverpool man isn't expected to be out for much longer with the game against Man United eyed as a potential return.
The fact Shelvey hasn't trained since the loss to Pep Guardiola's City could prove tricky, though Howe is hopeful the midfielder will be fit enough to play his part on Monday night.
Eddie Howe provides Jonjo Shelvey update
"Jonjo was feeling a tight groin and hamstring. He's given a lot to the team during the hectic schedule we've had. He hadn't had a lot of football before that period.
"I didn't want to force him to play in a game that was probably a step too far for him then lose him for a number of weeks so I think it was the right decision.
"He hasn't trained with the group yet, we hope to have him back very soon. He's such an important player for us in many different ways that we need to keep him fit."
Why is Jonjo Shelvey so important to Newcastle?
Since Howe was appointed United boss, he's made it clear of Shelvey's importance to the team.
During his first pre-match press conference ahead of the Brentford game, Howe described Shelvey as an "unbelievable technician".
"I knew how good he was having played against him," said Howe. But then when you work with him you realise he's an incredible technician and can play all sorts of passes, long and short.
"In terms of our philosophy, he's someone who'll be very important to us."
An upturn in form by Shelvey has also been noticed by supporters, many of which that been very critical of him prior to Howe's arrival.
He scored a stunning goal to put Newcastle 1-0 up at Anfield, though it was his error that led to Liverpool taking the lead in the same game.
Shelvey apologised for his mistake quickly afterwards, something that goes a long way in the eyes of the fans.