10 mouth-watering breakfast hotspots in Newcastle
There's a breakfast for everyone in Newcastle.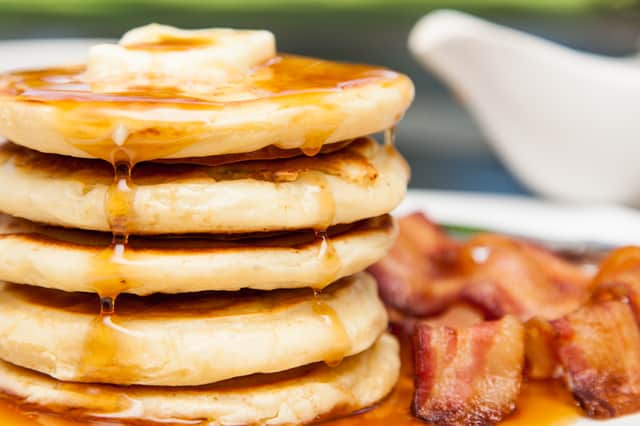 "Breakfast is the most important meal of the day," we've all been told at some point in our lives.
When scanning cereal boxes on the shelves at home or facing the prospect of another round of burnt toast, it may be hard to find inspiration in that saying.
However, breakfast doesn't need to be dull, especially with the restaurants and cafes on our doorstep in Newcastle.
From classics served how they should be to quirky takes on tradition and altogether new ideas, here are 10 of the top breakfast hotspots in the city.
The Dispensary
Heber St, Newcastle upon Tyne NE4 5TN
When you stack pancakes that high and inject them with those goodies, you're never going to go too far wrong.
The Dispensary has it all going on with its infamous breakfast menu featuring a Full Breakfast, a Vegan Breakfast, Fried Chicken Benedict and a whole host of French Toast.
Without a doubt, the star of the show is the cafe's pancakes which come with toppings including Kinder Bueno, Lotus and Nutella.
Journey Cafe
7-9, Higham House, New Bridge St W, Newcastle upon Tyne NE1 8AN
Journey is a grassroots independent company that prides itself on its heritage, being built slowly over time with the help of family and friends.
Its space is always changing with the venue serving breakfast, lunch and dinner before being converted into a lively evening bar.
Their menu is Mediterranean inspired and very vegan-friendly - there are also often cakes from Studio 28 too.
ARLO Jesmond
36-38 Brentwood Ave, West Jesmond, Newcastle upon Tyne NE2 3DH
ARLO brands itself as a "quirky foodie haven".
Whilst its tasty breakfast menu does include some curveballs such as Nduja Toasted Crumpets and Turkish Eggs, there are classics too.
ARLO also has a TripAdvisor Traveller's Choice Award 2021 to its name.
Davey's Breakfast and Sandwiches
50 Sheriffs Hwy, Low Fell, Gateshead NE9 5UE & 38 Helmsley Rd, Shieldfield, Newcastle upon Tyne NE2 1DL
There is some serious breakfast eating that goes on at Davey's Breakfast and Sandwiches.
As well as a box jam-packed with American breakfast goodies, there's loaded bagels... and we mean LOADED.
The Double Hash and Cheese looks the perfect hangover cure too, and there's also puppuccinos on the go for furry friends.
The Staiths Cafe
1 Autumn Dr, Gateshead NE8 2BZ
You'll struggle to beat an early morning stroll along Newcastle's Quayside followed by fuelling up at The Staiths Cafe.
The Cafe give you plenty of time to get on down as well, so there's no need to rush.
Breakfast is served all day until 3 pm with all your favourites on the menu.
The Butterfly Cabinet
200 Heaton Rd, Newcastle upon Tyne NE6 5HP
You can really let your creative juices flow at The Butterfly Cabinet.
The cafe's menu includes a Make Your Own section where you can build your own Full English and avoid eating around the parts you don't like.
As well as a fry up, there are omelettes, pancakes, muffins and more.
Aidan's Kitchen
11 Starbeck Ave, Newcastle upon Tyne NE2 1RH
When you go onto the Aidan's Kitchen website, the first thing you'll see is a huge definition of the word 'brunch'.
The restaurant knows what it's doing and has some knockout flavours going on.
Aidan's take classic breakfast items and add a unique flavour kick to make it a new experience for customers.
Horticulture
1 Market Ln, Newcastle upon Tyne NE1 6QQ
Horticulture in the town centre prides itself on using local ingredients and sprucing them up with influences from all over the world.
The brunch specialists dish up Shakshuka's, Hash, Muckle Brekkies and Shloumis, as well as the traditional Full English.
Don't just take our word for Horticulture's rising stock, the cafe won a 2021 Travellers' Choice award from TripAdvisor.
Ernest
1 Boyd St, Shieldfield, Newcastle upon Tyne NE2 1AP
Ernest is a pretty hip place to be in Ouseburn.
The bar prides itself on 'honest food' and serves brunch until 3 pm.
There's a classic Local Hero Breakfast for proud Geordies, as well as a Vegan version and simple classics such as porridge.
Super Natural
27 Grainger St, Newcastle upon Tyne NE1 5JE
Super Natural is a Vegan haven for brunch.
The cafe keeps it simple and keeps it tasty.
Think homemade sausages, scrambled tofu, rosti bites and porridge bowls.