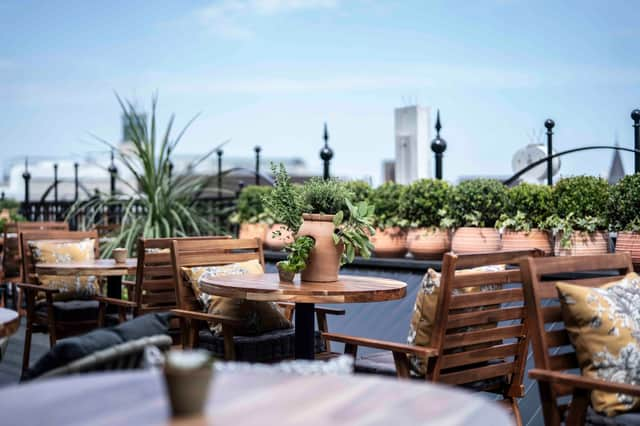 That is why we have put together a guide of our favourite rooftop bars, so you too can enjoy the stunning views Newcastle has to offer.
When Dom Perignon, a French Monk, first discovered Champagne in 1697 he called out to his friends, 'brothers, come quickly- I'm drinking the stars' and now with Newcastle's newest rooftop champagne bar, you too can have a taste of the stars whilst sitting amongst them.
3SIXTY at the top of Hadrian's Tower, Newcastle's tallest building, raises the bar (in every sense of the word) when it comes to a night of luxurious dining and drinking.
So, if you're after a night of drinking and dressing to the nines, 3SIXTY is guaranteed to be an occasion to remember.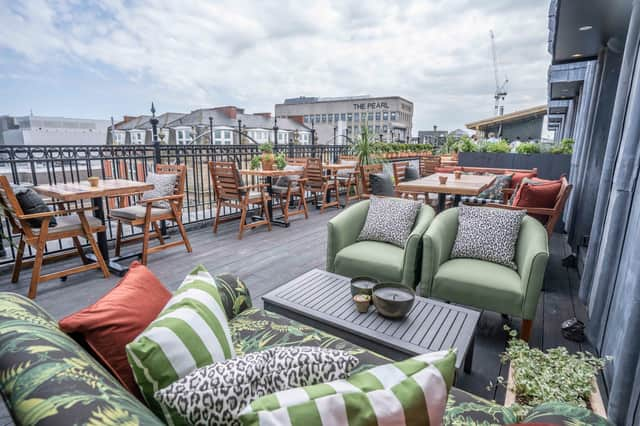 Another new addition to Newcastle's skyline is Roof Thirty Nine. Located on Fenwick's rooftop this bar and restaurant is open all day and evenings, so whether you fancy a morning coffee with a view or a quick lunch break from shopping on Northumberland Street, Roof Thirty Nine is great shout.
Chaophraya is another great rooftop restaurant to visit for those much needed shopping breaks as its entrance is located in the heart of Newcastle's shopping scene, Eldon Square.
With a beautiful rooftop garden for you to enjoy their contemporary Thai dishes, your dining experience is guaranteed to be sky high.
Located on Grey Street, Barluga's roof terrace is ideal on a summer's evening if you're looking to escape the hustle and bustle of your everyday life for an hour or two and relax with a deliciously fruity cocktail.
Not forgetting this is Newcastle and the weather is often not on our side, for somewhere you can go both rain and sun, we recommend The Botanist.
The Botanist is a beautiful sky-high bar/ restaurant with stunning views overlooking Greys Monument and indoor seating, making it ideal for any day of the year.
Not only does the Botanist have stunning views of Newcastle, but the décor is also one of a kind, so you'll never get bored of either view.
One of the best views in Newcastle without doubt is the Quayside. No matter how many times you see it, it's a view that will never get old. Which is what makes Six so unique.
Located at the top of The Baltic and overlooking the River Tyne, Six is a stunning bar and restaurant and the only place that offers a panoramic view of Newcastle's iconic riverfront as you dine.
Calling all coffee lovers! If you haven't been to Horticulture's rooftop terrace need we say more than you can get a coffee at any time of the day?
This café, restaurant and bar is great for both brunch and evening drinks as it's open from 10am – 2am and with the largest espresso martini menu in the world.
Located on Pilgrim Street, Alvinos is known for its bustling atmosphere. With live DJ sets every Thursday, Friday and Saturday, the outdoor terrace is a great stop to add to your night out.
They also have a wide range of cocktails, so whether you're wanting something classic or fancy trying something a little more experimental, Alvinos have you covered.
Another bar renowned for its cocktail menu is Revolucion de Cuba.
Nestled in the Cloth Market and with their very own rooftop terrace and Havana Club bar, Revolucion de Cuba makes for an unforgettable fiesta and is an essential stop on a night out for all rum drinkers.
Whilst you may think you're already spoilt for choice when it comes to Newcastle's rooftop bars and terraces there are still more coming your way this summer and we for one can't wait for their arrival.
Gainford Group, which owns hotels, bars and restaurants across the city, are set to open two new rooftop bars this summer Above and Crescendo.
Located on the roof of The Vermont Hotel, ABOVE will offer 360- degree views of Newcastle and the adaptable layout means it will become a stunning venue for weddings or private parties.
See our full tour of the amazing new bar here.
And one to look forward to
Crescendo is about to raise all of our nights out to a new level as it prepares to be Newcastle's newest nightlife addition.
The stylish new urban rooftop bar will open in 2021 and is located in a secluded area between Moot Hall, the Vermont Hotel and Livello.