But this early '80s family album snap is special.
And the current owners could be in for a big surprise, writes Graham Walker.
For this is the first home of Scouting For Girls pop star Roy Stride and it's about to be used as the cover of their forthcoming album and 2023 tour poster, A Place We Used To Meet.
In addition to digital/streaming, the band's official store offers signed CDs and vinyl, a deluxe CD with a bonus disc. Amazon stock a signed CD and standard black vinyl, while HMV and select indie stores offer an exclusive orange vinyl format.
In an exclusive interview Roy and bandmates, childhood friends, drummer Peter Ellard and bassist Greg Churchouse, reveal album and tour details which will thrill fans – watch the full interview above or CLICK HERE.
The art work evokes a return to getting back to what they love most, writing songs together.
They've sold two million records, had over a billion streams, eight top 40 singles, won countless awards - including an Ivor Novello - played to fans all over the world and celebrated four top 20 albums.
Now they are set to release their seventh album in October and tour it, also promising all their greatest hits, on a 22- date tour in November and December.
Roy believes it has new 'billion stream' pop hits potential to sit alongside their biggest tunes - no mean feat when your songbook includes indie pop anthems She's So Lovely, Elvis Ain't Dead, Heartbeat and number one This Ain't A Love Song.
It's being billed as an album full of the instantly memorable, life-affirming, singalong indie-pop with which they made their name, with songs that resonate with stories of longing and loss.
He said: "The dream, every time you start writing a song, you want it to be the greatest we've ever written.
"I honestly believe there's a couple of songs on there which are as good as anything, they are like a billion streams. I thought that about our past songs as well."
Greg added: "There are other people who think that too."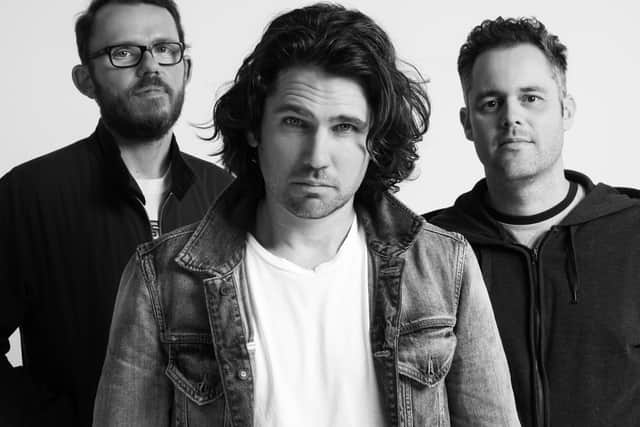 Pete said: "This is genuinely the most fun I've had making an album in a long time, since the first one."
Roy continued: "We've got some real big singles on it, which are probably the biggest songs we've ever done. Like the most commercial, the most pop. I think that sort of fits in the framework of a band doing pop music in 2023. At the other end we have some real love ballads.
"I had this idea of putting together an amazing sort of suite of music and the second half, as you'll see when you turn over the vinyl version, it runs all the way through. So the last six songs actually work all together as one piece of music."
The band say their early influences shine through - for Roy it's about Britpop and he says through listening to Oasis he discovered The Beatles, The Rolling Stones and The Beach Boys. Drummer Pete is a huge fan of Phil Collins. He added: "I have the motto, 'what would Phil do'. His Serious Hits live is probably one of my favourite albums of all time."
Pete said there was no pressure to write pop hits for the new album.
"We've already got all those, so there's not really any pressure - we've got stuff to fall back on," he laughed.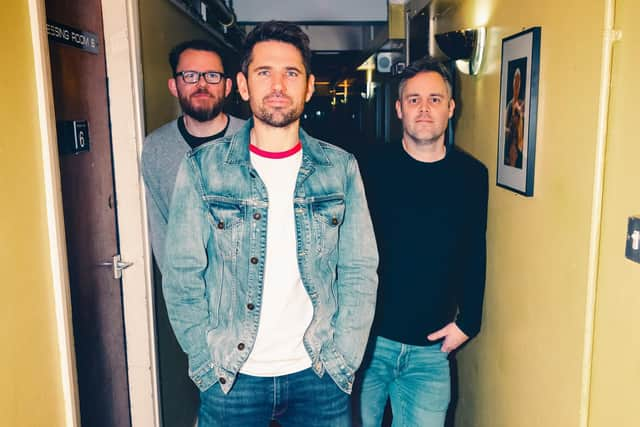 "You can't afford to get pressured because, if you do, you might not write anything decent and you won't be natural. "I think that's what we've done on this album. We've all got together and just had fun with it."
After performing greatest hits as special guests on the Olly Murs tour they are looking forward to playing the new songs on their own upcoming headline tour this winter - but promised to also deliver established fan favourites.
Roy said: "We know fans want to hear the big songs. So we will be doing all our hits plus new ones. And we'll also be playing songs which people don't always get a chance to hear.
"We always say our fans are like another member of our band.
"It's about making sure we create that moment in the room - that magic moment."
Roy also revealed the family album snap on the album and tour poster isn't actually where they used to meet up. The photo was taken of his first home in Edgware, a London suburb.
The pals didn't start rehearsing together until Roy's family moved to his next home and the place they really used to meet was in the garden shed. They went on to launch Scouting For Girls in 2005 and the rest is history.
Roy said: "The Place We Used To Meet is about us sort of getting back to what we love - just writing pop songs together.
"The album photo, with my dad's old Ford Escort parked outside, really summed up those times because the new album is full of nostalgia, about going back to when we started making music.
"It is my first home where I was born in Edgware, the suburbs of London. I lived there until I was about six or seven. That's why the guys had never been there.
"The house where I lived next, while still at school, was where we practised in the garden shed.
Roy, now 44, says it's so long ago he can't remember the name of the street and modestly laughs off a suggestion that a blue plaque should go up outside to mark the pop landmark.
Pete says he's already got a blue plaque - but he's been banned from putting it up outside his family home.
He laughed: "I've got a blue plaque. But I'll have to do it when my mum and dad go out. He said 'you're not putting that up'."
Their 22 date autumn tour – full details below – will see them play Edinburgh, Aberdeen, Glasgow, Liverpool, Manchester, York, Newcastle, Reading, Bristol, Brighton, Nottingham, Cambridge, Exeter, Leicester, Leeds, Sheffield, Birmingham, Northampton, Norwich, Guildford, Bournemouth and London.
They also have a busy festival schedule which includes Isle of Wight, Camp Bestival and the Neighbourhood Weekender. Please see HERE for a full list of dates.AUTUMN 2023 TOUR DATES
3rd - Edinburgh, La Belle Angele
4th - Aberdeen, Lemon Tree
5th - Glasgow, SWG3 Galvanisers
7th - Liverpool, O2 Academy
8th - Manchester, Academy
11th - Newcastle, Northumbria University
14th - Bristol, O2 Academy
17th - Nottingham, Rock City
18th - Cambridge, Corn Exchange
20th - Exeter, University - Great Hall
21st - Leicester, O2 Academy
24th - Sheffield, O2 Academy
25th - Birmingham, O2 Academy
27th - Northampton, Roadmenders
1st - Bournemouth, O2 Academy
Follow Scouting For Girls: