There's nothing quite like seeing a fellow Geordie succeed on one of the biggest stages of all, and what a time it was for Sam Fender as he took to Glastonbury's Pyramid Stage.
His Northern soul has been on a tour of the whole country recently, and there's no better place to refuel than in front of tens of thousands at Glastonbury.
No real changes are made to the well-maintained setlist Fender offers on tour here, which goes from strength to strength as it did at BBC's Big Weekend just a few weeks ago.
He has found his rhythm, his Pyramid Stage showcase proves that, if anything, Fender can survive with or without the Newcastle United flags surrounding him and the stage.
There's always going to be a bit of pride for Eddie Howe's Black and White Mags, though, with Johnny 'Blue Hat' Davis sporting a home kit, stood proudly in front of a United flag.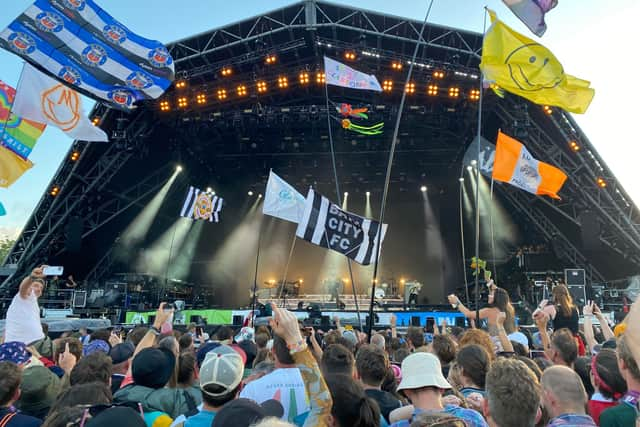 For any Fender fan or person from the North East, seeing these monumental tracks felt sincerely moving.
Spit of You stands out by a country mile, a touching performance of a track detailed with experiences of Fender's youth, all to the backdrop of family photos.
Seventeen Going Under and Get You Down are the obvious treats too, but Getting Started and The Borders are delightful. It's a perfect setlist.
Fender, by his own admission, has "never been here before," not even as a punter, but he seems right at home on the main stage.
The North Shields-born singer was all smiles throughout the set, marking a significant moment in Fender's career.
What Fender is keen to display here though is not just his lyrical brilliance but his skill as a guitarist, which he proclaims exceptionally well throughout the set.
A red glow covering the stage throws a delightful backdrop on one of the many British acts debuting at the festival.
There aren't many performers who could bring a 'Get Off the Metro' meme to Glastonbury, but Fender's sampling of the track on the mosh-pit-built Howdon Aldi Death Queue makes that possible.
From the early scorch marks of Wet Leg and Yard Act to the rise and rise of Sam Fender, it looks as though Glastonbury is gearing up for a new wave of British indie classics. Hopefully, anyway…
Glastonbury was built on the birth of great music. Fender embodies that.
While Fender has already enjoyed success elsewhere for a few years now - this career-best performance really does feel quite special.