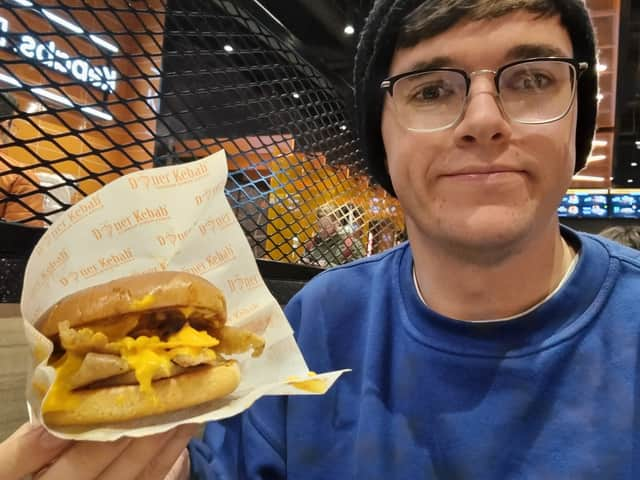 German Doner Kebab is the new boy on the Newcastle fast food scene and the chain is making a bid to bring in customers over the festive period with its winter warmer burger.
The Doritos Chilli Heatwave Krunch Burger has arrived on the menu for a limited time.
The spicy meal consists of a brioche bun filled with German Doner Kebab's famous doner meat, covered with GDK spicy sauces, cheese and Chilli Heatwave Doritos crisps.
It's on the menu until December 24 and Newcastle World were offered an early taste of the new product.
The fast food chain
It was my first time going into the new German Doner Kebab that has set up shop in the centre of Newcastle.
It's found on Newgate Street, just a short walk from The Gate, and I knew the eatery had been an immediate hit with locals given the number of discarded wrapped floating across streets as far as Gateshead.
The chain's goal is 'revolutionising the kebab in the UK' as they aim to offer a cleaner and sleeker version of the much-loved kebab.
It was refreshing to be sitting down for a serving of fast food in a store that wasn't McDonald's or Greggs, which are the go-to options in Newcastle.
German Doner Kebab was clean, staff were friendly and the ordering process was swift.
Unlike at other chains, once ordered you are given your drink and a bleeper and told to go choose a table.
From there, the bleeper relays back to kitchen staff and once your food is ready, a waiter will bring your meal to you.
It still took five to 10 minutes, but the hybrid between takeaway and restaurant service was an enjoyable one.
The Chilli Heatwave Dorito Krunch Burger
As a fan of Chilli Heatwave Dorito crisps, which are the best flavour by the way, I was intrigued by German Doner Kebab's festive product.
When it came it looked good too - not as tantalising as the promotional image, but appetising nonetheless.
The chain is all about their meat, and there's a clear taste improvement on other fast food stores.
The meat was the standout in the Chilli Heatwave Dorito Burger as the Chilli Heatwave Doritos struggled to keep their taste and texture with everything else going on.
Eyeing up other customers' kebabs, I did find myself wishing I had one of the more traditional products.
I'll certainly be back to German Doner Kebab, but one Dorito Krunch burger was enough for me.