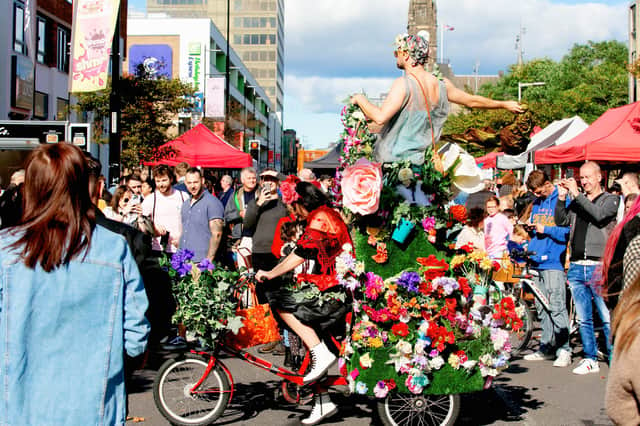 LGBTQ+ charity Northern Pride are behind the event and has been working alongside the Ouseburn Trust to pull together the event, which takes place from 10 am to 4 pm this Sunday, September 19.
A number of venues in the area have committed to taking part and visitors will also be offered free taster tours at the Victoria Tunnels with food and drink available at The Ship Inn.
Ouseburn Farm will also be opening its doors for families to meet the animals at 11:30 am and 2:30 pm.
ATOMS Education will be at the farm running drop-in workshops on a variety of topics too.
At Seven Stories bookworms can get their fill of activities, with a reading of Two Daddies programmed for 11 am and then Drag Story Time at 1 pm and 3 pm.
Ouseburn's iconic music venue, The Cluny, is also taking part with a smorgasbord of shows from Dino Live to a family drag show taking place throughout the day.
There are showers forecast for Sunday but, if you catch a break, you can also celebrate Pride on the Village Green where LGBTQ+ arts organisation Curious Arts will be hosting a Mini Pride all day.
Nimerta Virdee, Family and Youth Officer at Northern Pride, said: "Community is at the heart of everything we do at Northern Pride and we hope Ouseburn Family Pride will give LGBTQ+ families the opportunity to enjoy a day of fun which been designed specifically with them in mind.
"We have an excellent programme of activities and performances planned throughout the day and it's fantastic to have so many venues onboard to take part.
"Whether little ones are fans of history, science, reading or just want to spend time with some furry friends at the farm, there's plenty for families to get involved with during the day."
Ouseburn Family Pride is free to attend, although some Farm Aid activities may require a donation.