Newcastle's pub culture goes from strength to strength when the warm weather hits, and these beer gardens dotted in and around the city are perfect for the recent sunny skies.
Although punters looking for a cool pint may still be lamenting the loss of STACK, there are plenty of unique outdoor beer gardens to blend that warm weather and cold drink treat.
Those wanting a quick tipple or a trek around the sunny streets of Newcastle can rely on this list of some of the best beer gardens in Newcastle.
The Quayside plays host to a number of notable beer gardens, with By The River Brew Co boasting impressive sights with fine beers.
That riverside breeze and atmosphere is like no other, and crossing over the Swing Bridge will take pint hunters right to an idyllic setting.
The microbrewery aesthetic and design creates a grand atmosphere for a delightful array of drinks, with the venue proving quite popular around that mid-afternoon heatwave peak.
For those wanting to stay on just one side of the River Tyne, Pitcher & Piano is the perfect choice for keeping closer to the centre of town.
Slightly more upmarket and not as independently themed as other locations on this list, the limited outdoor seating makes this a hot spot for those in need of a sun and pint combo.
Still, grazing plates and pub classics to go along with a cool pint? That's the good stuff.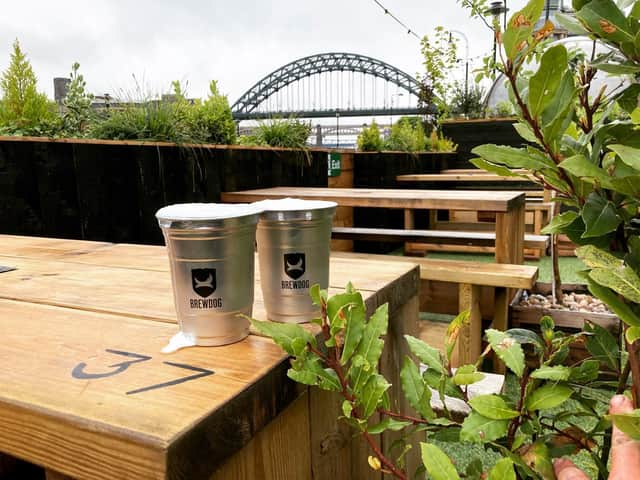 Speaking of good stuff it'd be impossible not to mention Urban Garden by Brewdog, a delightful venue with fake grass flooring and a sincerely nice atmosphere.
The place has a festival-like feel with wooden seating and a muck truck style bar that stocks a variety of great, independent bottles, beers and spirits.
Perfect for summer drinks on the Quayside, the warm-up act before heading into town or just a nice place to sink a few with friends in the sun.
A hotspot for famous faces such as Johnny Depp and Sam Fender more recently, The Bridge Tavern has a lovely environment for its outdoor drinks.
Cask and keg beers alike play host to the punters here, as well as a strong selection of wines and spirits.
Revolución de Cuba Newcastle
A nice slice of Cuban drinking could make a popular choice for beer garden drinks in Newcastle.
The Latin-inspired indoors of the venue make for a nice change of pace, as do the cocktails on offer at the establishment, with the Havana heyday taken straight to Newcastle.
The bar often stays open late, meaning those wanting a mid-week trip around town have always got a bit of Cuban style to fall back on.
Ouseburn-based Tyne Bar boasts the usual beer garden aesthetics that cater to fans of independent pubs.
But The Tyne Bar benefits from being not just a lovely place to enjoy the sun but a great spot to take in the history of the city near the River Tyne.
Independent beers and a good selection are on offer for those wanting to drink with a bit of culture behind them.
Working up from The Tyne Bar will eventually bring pint chasers and Geordie pub-goers to Barluga, a well-placed bar with plenty of outdoor seating.
More restaurant than bar, but that doesn't mean there isn't a delightful variety of drinks on offer, and the chance to soak it all up with some fine food.