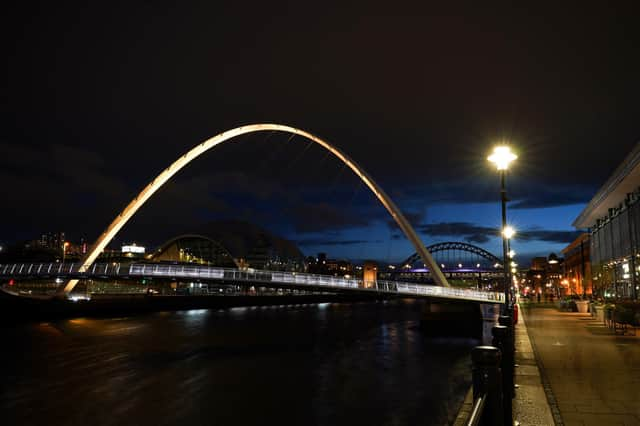 Newcastle is a well known destination for anyone wanting to spend a weekend away in the UK. Hundreds of stag and hen dos head to Tyneside every Friday in the hope of a weekend to remember, but there is plenty locals and tourists alike may miss.
In the hope of unravelling the ideal way to see the city, we asked Anna Unger, a senior tour guide with NorthernSecrets, about the best ways to spend time in and around Newcastle.
Attractions
"In terms of sights, one of the things I loved in the summer last year was Newcastle Cathedral" explains Anna. "It's had a massive renovation over Covid and they now make their tower accessible so you can now go on private or public tower tours where I think there's only about ten people they can take through the spiral staircase. They'll take you through the belfry and right up to the roof.
"On a nice day you can get a view of the city you never would have been able to before" she adds. Tickets are only available at certain times throughout the year and the best way to keep an eye on when they become available is through the Cathedral's newsletter.
"The Victoria tunnel also comes up as a favourite for anyone who comes and visits in Ouseburn. It was a 19th century waggonway which transported coal from the Town Moor down to the Quayside says Anna, who also mentioned the role the tunnel had in protecting local residents during World War Two air raids. Tours are run by the Ouseburn Trust from the trendy neighbourhood to the east of the city centre.
Back in the city centre, the Castle Keep is also discussed. "Even if you're from Newcastle people can forget the city is named after the Castle Keep. Since it's had its revamp it's quite a nice attraction. You can climb to the top of the Castle Keep and get good views of the city from up there too."
Tours
Anyone wanting to experience the city in a new way has plenty of options thanks to the guided tour on offer from locals. Unger is a guide for partner companies Newcastle Tour Company and Northern Secrets with both offering group tours across the region.
"We do foodie tours where we go to about six different street food vendors and introduce Newcastle through a foodie perspective. We do the same in our pub crawl tour where we select the most iconic pubs and talk about Newcastle Brown and the surge of microbreweries."
"BritMovieTours, which is another tour company based in London, offer Vera themed half day tours around the Tyneside area" adds Anna. "You'll be taken to the Vera film locations or murder scenes and to the place where for many years the police offices were in Wallsend." Full day tours are also available to take visitors further north to Holy Island.
Other tour options from Newcastle Tour Company include a true crime tour which goes through 700 years of gruesome history across the city including the site of one of the UK's largest witchhunts and cycling tours taking in the highlights of the city.
Activities
Keen to show what has worked well for visitors recently, Anna mentions further opportunities to spend an hour or two in the city. "We've recently tried Point Blank with a group at the Gate complex." This is a shooting range popular with stang and hen dos to start off the night while the Escape Rooms on St Andrew's Street are witchhunt themes to tie into Newcastle's past.
"Brinkburn Brewery is now offering brewery tour too" says the guide. "Obviously microbreweries are a big thing now and there are so many micrbreweries including Wylam Brewery." Gin tasting is also available across the city including Blackfriers and add-ons to some Newcastle Tour Company tours offer beer tasting.
Brinkburn Brewery is based in Ouseburn and tours are available to book online. The brewery also has a taproom and restaurant. Wylam Brewery is housed in the stunning Palace of Arts in Exhibition Park has has a taproom on site as well as hosting various events including music concerts, food festivals and more with Bank Holidays being hugely popular. Closer to Byker is the Tyne Bank Brewery which also has events going on throughout the year.
A whistle stop tour
When it comes to quick visits, Newcastle is set up perfectly for a few hours in the city centre with Anna offering the best way to spend a limited amount of time in the city. "For must dos, I'd first go to Fenwicks food hall and have Lindisfarne local, regional oysters. I'd then probably head into the Grainger Market because it's the only Victorian market in Britain which is still used as a market hall and have a stroll around there, maybe trying some of the street food which is on offer there.
"After that I'd possibly go past the Bigg Market and soak up the famous Bogg Market atmosphere and then finish with a cocktail over the Quayside looking over the Tyne Bridge."