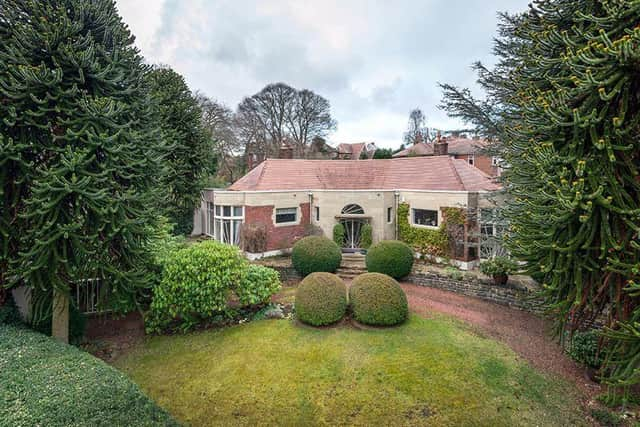 The property is tucked away in Jesmond Dene (Image: Rightmove)
This Jesmond Dene mansion doesn't seem to be budging from the market, despite its glamorous inside and enviable location.
Perched on the edge of the leafy Jesmond Dene and within walking distance from Newcastle City Centre, its prime location would be enough to attract offers from many.
What's more, Ashbourne on Jesmond Dene Road is just as spectacular from the inside.
Inside the Jesmond mansion (Image: Rightmove)
It's being touted as "one of Jesmond's most highly regarded and individual detached residences" with almost 3,000 square feet of internal accommodation.
There are also two generous reception rooms, manicured surrounding gardens, a private south-west facing courtyard and four bedrooms.
Entrance to the house is through secure electronic entrance gates and it, of course, has its own private driveway.
The house was first built for the Mayor (Image: Rightmove)
First built in the early 1930s, you can certainly notice the grandeur of that era in Ashbourne's design.
If Jay Gatsby was to throw a party in Newcastle, he would no doubt have wanted to host in the Jesmond Dene mansion.
Ashbourne has its own fascinating history too.
The Rightmove description reads: "Ashbourne, which is nestled on the very edge of Jesmond Dene, is thought to have been originally constructed for the Lord Mayor of Newcastle in 1934 and enjoys a fantastic plot in an extremely secluded position within Jesmond and is ideally situated at the tip of Glastonbury Grove and Jesmond Dene Road.
The price is only revealed on application (Image: Rightmove)
"This individual home, which was purchased by the current owners in 2005, has since undergone a series of modernisations and updates and now offers one of the largest, single storey living properties within central Jesmond and Gosforth."
With so much to offer, it won't be surprising to find out that the property will set you back a pretty penny.
However, agents Sanderson Young, who deal with some of the region's most rare properties, haven't disclosed the asking price online - the grand reveal only coming after application.