Top 10 rated restaurants in Newcastle according to TripAdvisor - and customer reviews
How many of these restaurants have you visited?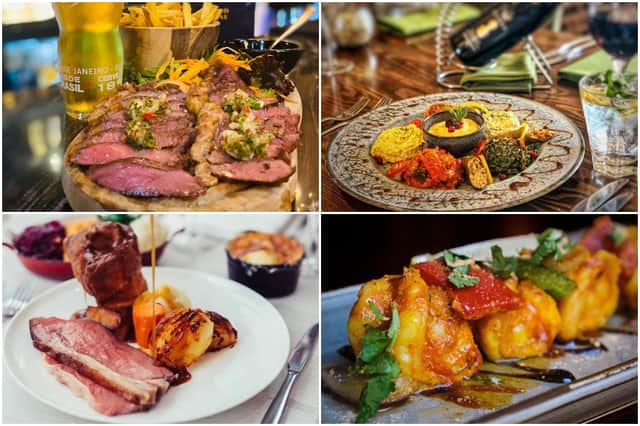 Newcastle has a wealth of incredible places to dine out, so much so that it can be overwhelming when it comes to choosing where you'd like to treat yourself to.
Here are 10 places to get you started, courtesy of reviewers from TripAdvisor.
Rio Brazilian Steakhouse
61 Osborne Road, Newcastle upon Tyne, NE2 2AN
"From the minute we walked in to the minute we left, the service from all staff was exceptional! They explained perfectly how the restaurant worked which was then followed by our salad plate and then the night began.
"The meat was outstanding and we tried them all! Garlic steak has to be my favourite. We have visited a few Brazilian restaurants in the UK and this was by far the best. Can't wait to come back!"
Saray Jesmond Turkish Grill House
Dorchester House, 46 Osborne Road, Newcastle upon Tyne, NE2 2AL
"The food was amazing. Absolutely amazing. And the service was just as good if not better. If you have the time, visit. And if you don't have the time then make it because this restaurant is fantastic."
Simla Restaurant
39 Side, Newcastle upon Tyne, NE1 3JE
"All of the curries were top drawer and the chicken was lovely and tender. The rice was light and fluffy and the naan was light and not at all stodgy like some are.
"I don't often give 5 stars to be honest as there is normally something that could have been a little better but this is only fair for this restaurant. I will need to go back to Newcastle, (all the way from Scotland) to make sure I try this so will definitely be back."
Branches Jesmond
9 Osborne Road, Newcastle upon Tyne, NE2 2AE
"Absolutely fantastic place, matched with great food and staff. I have never been anywhere before where the staff were not only faultless but went above and beyond to help."
Sushi Me Rollin'
Unit 49, The Stack, Newcastle Old Odeon Site, Pilgrim Street, Newcastle upon Tyne, NE1 6QE
"No sushi will ever top the sushi here! Tastes incredible, so filling, so well prepared you really won't be disappointed. I can no longer eat sushi anywhere but Newcastle because the bar really has been set."
Boquerones Tapas and Cocktails
194A Heaton Road, Newcastle upon Tyne, NE6 5AP
"Amazing dinner tonight, so much so I'm writing the review while still here! Service was outstanding and quick, food was delicious and the atmosphere was nice. Clearly marked gluten free dishes and lots of options. A must visit if you're in the area…or even if you're not!"
Aidan's Kitchen
11-15 Starbeck Avenue Sandyford, Newcastle upon Tyne, NE2 1RH
"I come here regularly since discovering it after lockdown. The food is superb and the service is great. It's definitely a level above your usual sandwich shop/cafe. Very trendy with a great menu."
The French Quarter
Arch 6 Westgate Road, Newcastle upon Tyne, NE1 1SA
"Having a daughter at uni in Newcastle miles away from home has its perks when I get to stay over in the toon now and again and visit the French Quarter. It is relaxed, authentic, great value with small plates of meat, veg or fish, fantastic dauphinois and one of the best cheese boards ever. Good selection of wine. Really friendly staff and lovely atmosphere."
Knights by the Burn Coffee House
Newburn House High Street Walker Davison House, Newcastle upon Tyne, NE15 8LN
"This place is amazing! Owners and staff are so friendly and accommodating. The food never disappoints and I particularly love the veggie breakfasts. The outside garden is lovely and peaceful. Would highly recommend."
Snackwallah
Grainger Street Unit 42, Alley One, Grainger Market, Grainger Street, Newcastle upon Tyne, NE1 5QG
"Food is 100% authentic Indian cuisine. I don't think I've tasted anything quite as good as this. Amazing value for money, amazing portion sizes, great service and well worth the money!"