10 things to do in Newcastle this weekend - from visiting Newcastle Castle to touring St James' Park stadium
How many of these places have you visited in Newcastle?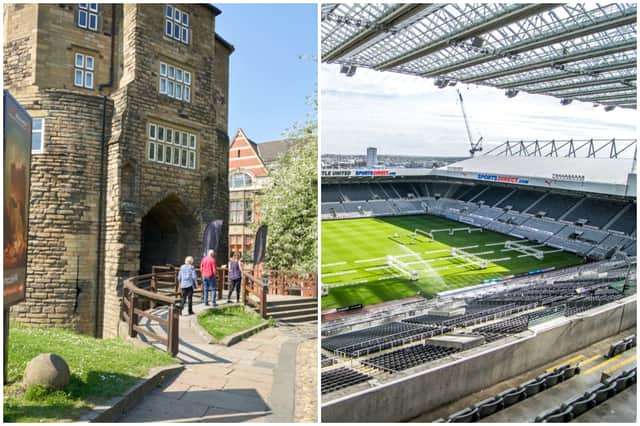 Newcastle has made a name for itself as a city bursting with culture, with loads of places to see and things to do.
Here are a few ideas to get you started.
Newcastle Castle
Newcastle Castle, The Black Gate, Castle Garth, Newcastle upon Tyne, NE1 1RQ
Learn about the story of where Newcastle began, and dive into its history by checking out the incredible Newcastle Castle.
This must visit attraction explores the rich history of Newcastle, from its royal fortress to its grim dungeons. The castle also hosts a number of events, like tours, film nights, music nights, talks, theatrical performances and more.
Newcastle Castle is open seven days a week, from 10am to 5pm until the end of August. After august, Newcastle Castle will be open on Friday, Saturday, Sunday and Monday.
The Biscuit Factory
The Biscuit Factory, 16 Stoddart Street, Newcastle Upon Tyne, NE2 1AN
The Biscuit Factory is the UK's largest independent commercial art, craft and design gallery.
Situated in a former Victorian warehouse, browse the incredible gallery spaces set over two floors and discover the likes of contemporary fine art, sculptures, original prints and more from over 200 artists.
The Biscuit Factory is open five days a week, from Wednesday to Sunday, 10am to 5pm, and it's also free to visit.
Seven Stories
Seven Stories, The National Centre for Children's Books, 30 Lime Street, Ouseburn Valley, Newcastle Upon Tyne, NE1 2PQ
The national home of children's books, Seven Stories celebrates all things to do with kids stories, their creators - and their readers.
Included in the collection is work by over 250 authors and illustrations, including the likes of Enid Blyton, Philip Pullman, Robert Westall and Judith Kerrn.
You can also find loads of events going on, plus workshops for childrens and grown ups too.
Admission to the museum is free, but you can book a touring exhibition in advance if you want, with prices starting at £6.50.
Grainger Market
Grainger St, Newcastle upon Tyne NE1 5AE
The Grainger Market in Newcastle is home to over 100 small businesses and independent traders - and the Grade I listed building it's situated inside of was built in 1835.
Described as "an important part of the city's shopping experience for almost two centuries", you'll find craft stalls, jewellers, clothing and plant stalls, butchers, artisanal bakers, green grocer, cafes and more.
The market is currently operating under reduced opening hours, which see's the market open Monday to Saturday, 9am to 5pm. You should note that the opening times of individual shops and stalls may differ.
Tour of St James' Park
St James' Park, Strawberry Place, Newcastle Upon Tyne, NE1 4ST
If you're a football fan, then you have to get a tour of the St James' Park stadium on your agenda.
You can opt for the classic tour, where you'll get to explore the rich history of the stadium that's been the club's home since 1892, with knowledgeable tour guides giving you a deeper understanding of the club and its heritage.
Alternatively, you can go for the rooftop tour, where, accompanied by an experienced rooftop tour guide, you'll ascend to a walkway 150ft above the ground to take in the panoramic views of Tyneside and its landmarks.
Rising Sun Country Park
Rising Sun Countryside Centre, Whitley Road, Benton, NE12 9SS
The Rising Sun Country Park is an incredible green oasis of 162 hectares, set in the heart of North Tyneside.
Enjoy the tranquil nature reserve with its ponds, woodlands and extensive grasslands; the farm and Countryside Centre, and relax in the great outdoors.
The centre grounds are open from 8am to 5pm, Monday to Friday; and 9am to 4.30pm on Saturday, Sundays and Bank Holidays.
The Countryside Centre Car Park is open from 8am to 5pm, Monday to Friday; and 9am to 4.30pm on Saturdays, Sundays and Bank Holidays.
Admission is free, and parking is provided within the grounds.
Mog on the Tyne
24 Pudding Chare, Newcastle Upon Tyne, NE1 1UE
Mog on the Tyne is Newcastle's first ever cat cafe, and it invites everyone to come along and enjoy the presence of their cats whilst enjoying a treat from the cafe.
The food served from the cafe is all locally sourced, and they offer a selection of gourmet sandwiches and cakes as well.
Lara, the owner of the cafe, has a background in animal management, and the welfare and happiness of the cats in the cafe are the number one priority.
The cafe is open six days a week from Tuesday to Sunday, 11:10am to 5:40pm Tuesday to Friday, and 10am to 5:40pm on Saturday and Sunday. The cafe is closed every day from 2:30pm to 3:30pm to allow the cats a little break.
Victoria Tunnel
Victoria Tunnel Entrance, Ouse St, Valley, Newcastle upon Tyne NE1 2PF
The Victoria Tunnel is a preserved 19th century waggonway under Newcastle, which stretches from the Town Moor to the Tyne River. Originally, it was built to transport coal from Spital Tongues Colliery to the river, and it operated between 1842 and the 1860s.
In 1939, the tunnel was converted into an air raid shelter to protect thousands of Newcastle residents during World War II.
Today, you can visit the Victoria Tunnel via a guided tour, where you'll learn all about the history of the tunnel - and perhaps maybe even spot a ghost.
During the tour, you'll also be told which Newcastle landmarks you're underneath, with the unique opportunity to walk underneath Hadrian's Roman Wall.
You can choose between the hour and 15 minute tour (£9 for adults, £4 for children) or the two hour tour (£11 for adults, £4 for children).
Jesmond Dene
Ouseburn Parks Visitor Centre, Red Walk, Jesmond Dene, Newcastle upon Tyne, NE7 7BQ
Described as the "jewel in the crown of Newcastle's parks and green spaces", Jesmond Dene is full of historical and natural features, as well as masses of wildlife, flowers and woodlands.
Wildlife like otters, kingfishers and more can be found in abundance,
Jesmond Dene is also home to Pets Corner, which first opened in the 1960s and to this day continues to delight families with young children. Next door you'll find the visitor centre, which contains a gift shop and cafe.
Ouseburn Farm
Ouseburn Farm, Ouseburn Rd, Newcastle upon Tyne NE1 2PA
Ouseburn Farm is a charity and community farm found in the heart of Newcastle, and its story dates back to 1976 when parents from Byker took over the plot of land on the site where the farm is now. The parents wanted their children to have access to nature, grow their own food and take care of animals.
Today, you can find events at Ouseburn Farm like rabbit and guinea pig petting and grooming, goat walking, reptile bathing, meeting the animals and the farmers' club. There are a number of workshops as well, like animal workshops, garden workshops and kitchen workshops too.