Alan Shearer brands Micah Richards 'disgraceful' as he laughs at former Newcastle United star
The two pundits bantered on the Match of the Day: Top 10 podcast
Alan Shearer labelled Micah Richards as 'disgraceful' as the former Manchester City defender cackled at the striker's best XI of former teammates.
The duo appeared on the Match of the Day: Top 10 podcast and were challenged to make their best starting XI from ex-teammates.
With international colleagues excluded, Shearer was able to pick from players at Southampton, Blackburn and Newcastle United.
Meanwhile, Richards was able to choose from Manchester City, Fiorentina and Aston Villa.
When it came to revealing their central midfield pairing, the former Cityzens man could hardly contain his excitement.
"You can't mess with Big Meeks", Richards said as he named his first player in Patrick Viera.
He followed that up by picking Yaya Toure as host Gary Lineker said, "you're in trouble, Al".
"He's got no chance," Richards echoed.
Shearer joined in on the banter, conceding, "my midfield might not be able to cope with this".
The former NUFC star then revealed his first pick as Magpies teammate Rob Lee, alongside Blackburn midfielder Tim Sherwood.
Responding to the pick of Lee and Sherwood, Richards launched into laughter.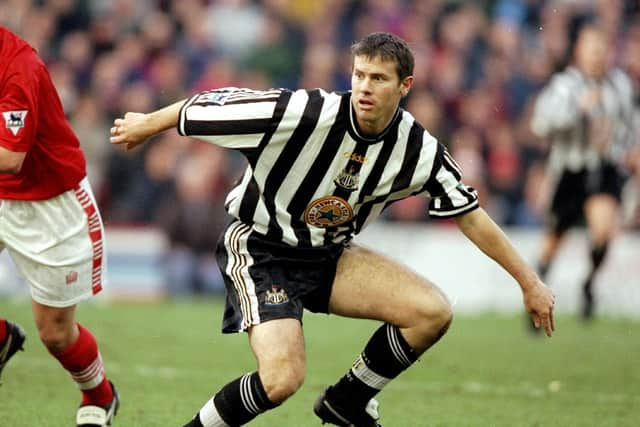 "That's terrible, that's disgraceful behaviour," Shearer retorted back at the cackling Richards.
Lineker added: "That's so rude!"
Lee played 303 times for Newcastle between 1992 and 2002, scoring 44 goals.
Speaking about the midfielder, Shearer said: "He could spray a pass as good as anyone, he could intercept.
"When I first got there he was all over the park.
"He's a good pal, I had a couple of pints with him last week.
"He started off as a goalscoring midfielder then became a bit of a general.
"He was brilliant at Newcastle. The fans love him and rightly so."