A group of 183 runners returned to Rising Sun parkrun last weekend in a defiant manner.
Event organisers put out a call for twice as many volunteers as usual after the distressing news that a 63-year-old woman had been raped on the land last week.
Northumbria Police have now charged a 34-year-old Newcastle man with the crime that horrified the region.
Alan Anthony Rothwell of Mowbray Street in Newcastle was arrested on Saturday in connection with the incident that took place at 4:10 pm on Monday, March 28, near the Pit Heap area of the park.
Rising Sun Country Park in Wallsend is a popular outdoor space on Tyneside for walkers, dog owners, runners and horse riders who benefit from the 400 acre green space.
In the days following the horrifying crime last week, users took to social media to share their horror and trepidation at using the park once again.
One weekly event that uses the space is Rising Sun parkrun, taking place every Saturday at 9 am.
The 5 km route invited participants to walk, jog or run the course.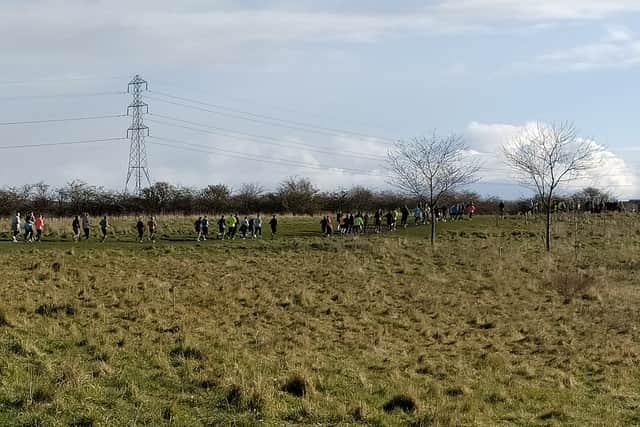 Ahead of Saturday's event, Rising Sun parkrun organisers put out an appeal online for twice the number of volunteers than usual.
The post read: "We are looking to double up on our marshals this weekend so we would be extremely grateful for your support if you are able to help."
Volunteers responded in strength, with 40 people along the course cheering and ensuring participants felt safe.
Writing on Facebook after the event, Run Director Mick said: "Well, what a morning we had today up at the Rising Sun parkrun.
"The sun was well and truly up and shinning nice and bright, but it was still bitterly cold with a few puddles still holding onto their icy coverings.
"Firstly I would like to thank all the amazing volunteers who appeared from everywhere when we needed the extra to enable us to run this week, and from a member of the public who commentated, "they were very grateful to see so many volunteers this morning, as it made her feel very safe after the last week".
"So from us in the core team, and on behalf of all our runners, a massive thank you, you're all awesome!!
"For all our runners thank you for your continued support and we hope that you all had a great run, and didn't get to wet and dirty out on the course.
"To all our first timers and visitors we hope that you had a fantastic run with us and we hope to see you again soon.
"Lastly thanks to all our dog owners for running with the correct leads.
"We look forward to seeing you all next week, have a fantastic rest of the weekend."
Responding to the event's organisation, participants praised the organisers and volunteers for their work.
One commented: "Huge thank you from this regular marshal to everyone who volunteered to be 'extras' and keep us all safe in numbers.
"Really appreciate your thoughtfulness. One of the many reasons why I love this parkrun."
Another said: "Thank you to all of the extra volunteers!
"It's obviously been a bit of a nervy time for female park users, but so reassuring when everyone steps up to ensure our parkrun can go ahead."
Speaking on that event just over a week ago, Northumbria Police Detective Chief Inspector Shelley Hudson continued to appeal to the public for information.
She said: "We can confirm a 34-year-old man has now been charged in connection with this incident.
"I would like to thank the public for their continued cooperation and support.
"Enquiries are still very much ongoing and we are again asking people to come forward, and are especially interested in anyone who might have footage such as CCTV or dashcam, which could be useful to our investigation.
"Now someone has been charged, we would also ask people to avoid speculation which could impact the case going forward.
"Thankfully, incidents of this nature are rare, but when they do occur we are committed to supporting and safeguarding victims, and will use every tactic at our disposal to ensure anyone responsible is brought to justice."
Police are keen to hear from anyone who has CCTV, dashcam or doorbell footage which shows a man in the area of the Rising Sun Country Park between 12 pm to 6 pm on Monday, matching the following description: a white male, late 20s or early 30s, wearing grey jogging bottoms, black jacket, riding a black peddle bike.
He is between 5ft 6in and 5ft 10in tall, clean shaven and of medium build.