England's Women's team made history as they claimed the European Championship on Sunday 31 July and pizza chain Domino's has shown its support of the Lionesses.
The women faced off against Germany in an fiery match that went into extra time, and ended with England coming out on top with 2-1 lead by the final whistle.
Ahead of the historic win one Domino's branch went as far as changing the name of their store to honour England's right-back and Northumberland's own Lucy Bronze.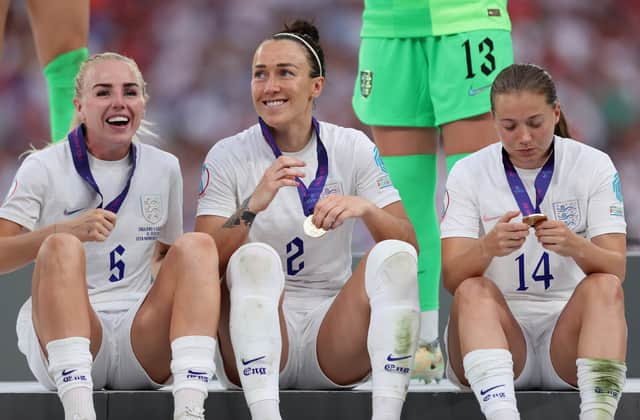 The win sent shockwaves through the country and with thousands of people watching at Wembley and millions of people watching at home.
It comes after a long 56 year wait for England supporters, as this is the first time the men or women's team have won a major tournament since 1966.
The match not only saw Team England make history with their win, but it also broke a record for attendance with 87,192 people showing up to support the women.
This was a record high for a European Championship game for both men and women. Setting a new benchmark for football.
So, why has the Domino's branch renamed itself after the lioness?
Here's everything you need to know.
Who is Lucy Bronze?
Lucy Bronze was born in Northumberland and has been a key component in this year's England win.
Bronze recently signed a two-year deal with Barcelona, following an incredible career and stint at Manchester City for the 30-year old.
Bronze has played for Sunderland, Everton, Liverpool, Lyon, as well as Manchester City. As well as playing on the 2017 and 2022 Euro squad, Bronze was selected for the 2015 and 2019 Women's World Cup team.
Throughout her career she has garnered many titles and awards. In 2019 she became the first English footballer to win the UEFA Women's Player of the Year Award.
Additionally in 2018 and 2020, Bronze was named BBC Women's Footballer of the Year. Bronze was also named The Best FIFA Women's Player in December 2020.
Why has Dominoes Headingley renamed itself?
Pizza chain giant Domino's has rebranded one of its stores to honour Northumberland's own Lucy Bronze.
The Headingley branch changed the store name to "Lucy's". The right-back worked at the branch part-time during her sport studies degree at Leeds Beckett University.
The Northumberland Gazette also reported that the tribute didn't stop at the name change. They reported that Moped delivery drivers from the store were also equipped with bronze helmets to commemorate the win.
The restaurant also put on a free pizza offer for anyone called Lucy. Those wanting to claim needed a valid for of ID, and could do so between 2pm and 4:30pm on finals day (Sunday 31 July 2022)
Ahead of the final, Ricky Kandola, Operations Director at SK Group, said: "Lucy Bronze worked at Domino's so of course she delivers. We have always been proud of Lucy's journey from pizza to pitch.
"Fingers crossed that Lucy and the team can make pizza history and bring home the trophy."
When are the Lionesses next playing?
England Women's Team will next face off against Austria Women's team on Saturday 3 September. The game is a qualifier match for the FIFA Women's World Cup 2023.
The match is scheduled to kick off at 4:30pm. The game will be shown live on ITV TBC and ITV Hub.
If you're looking to catch a match in person then you can catch the team facing off against Luxembourg Women's on Tuesday 6 September.
The match will be held at the Bet365 Stadium in Stoke, and tickets are still available via Wembley stadium website.
The next big tournament that will see Team England fight their way to the top will be the Women's World Cup in 2023.