How huge Jamie Reuben commitment to Newcastle is so vital - and why it isn't even enough to fix searing crisis
Even with the generoud Newcastle United co-owner's donations, the crisis facing food banks like the Trussell Trust is at breaking point and is set to worsen.
Watch more of our videos on Shots!
and live on Freeview channel 276
Visit Shots! now
Donations from Newcastle United fans and the generous matching of contributions by club co-owner Jamie Reuben has become a vital lifeline for local food banks - but a new wave of data from the Trussell Trust shows that even the most kind-hearted of fan bases can't battle the searing cost of living crisis on its own.
A total of 29,662 food parcels were delivered by the Trussell Trust in Newcastle between April 1 and September 30 this year, with 11,620 of those going to children in need. Those statistics are nearly a third up on last year and an eye-watering four times more than in 2017.
The Trussell Trust, which supports more than 1,300 food bank centres across the country, says the cost of living emergency has created a 'tsunami of need' as need outstrips donations for the first time in history. As a result, the charity has been forced to launch an emergency appeal in an attempt to get food bank levels to meet the current demand.
The charity warns that food banks are at 'breaking point', both physically and mentally, and are set to face the hardest winter yet as they expect to provide more than 7,000 emergency food parcels a day nationwide on average in the next six months.
Food banks in Newcastle are buoyed by generous Newcastle United fans who empty their pockets into buckets before matches at St. James' Park and the selfless supporters who commit time to collect donations. That trend has been boosted since the club's takeover in October 2021.
Before takeover day last year, Newcastle fans raised £10,000 for the Newcastle United Fans Food Bank in the four matches previous. With the added air of positivity post-takeover, £8,000 was collected in just one match against Spurs. That dedication has stuck around and now Newcastle co-owner Jamie Reuben matches whatever goes into those buckets with money from his own pocket.
Food Bank volunteer Bill Corcoran said: "When the new regime came, not only did we have incredible passion, generosity and a newfound sense of spirit reflected in the buckets, we got the incredibly generous offer from the owners. We just heard about it through the West End Food Bank that Jamie Reuben had offered to match donations. Then he turned up and said hello!"
Within six months, fan donations combined with Reuben's contributions had raised £100,000. With every fiver feeding a family of four for a week, that sum is equivalent to feeding 20,000 families for a week or 384 families for a whole year.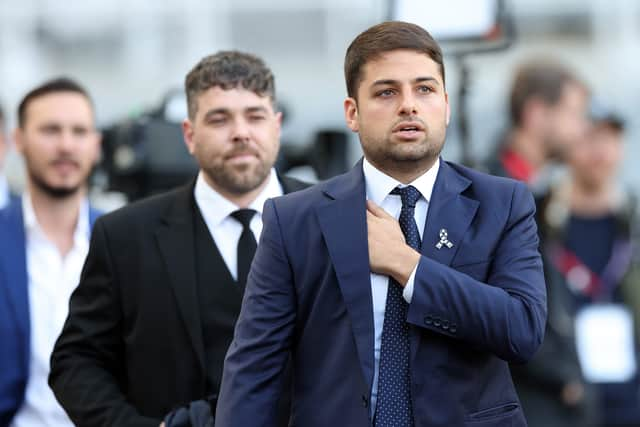 Speaking to The Guardian, the Trussell Trust labelled the money from fans and Reuben as a lifeline. Operations Manager Gemma Whaley said: "It has made a huge difference. Some people put pennies in, some people put in £10 or £20. The support you get from the fans, you can't really describe it, to be honest with you, it makes you quite emotional. I think it's representative of the city as a whole, people just want to help."
In a startling feature, The Guardian also heard from a local mother called Jenny who goes without food three days a week in order to ensure there is enough for her children. She described her situation as a "hellhole" as she can only afford to use a small electric heater for her child when he needs it the most. Hers is just one of the stories heard all to regularly by volunteers.
In the new data published by the Trussell Trust, findings also show that the charity is supporting more and more people who are working but still can't afford the essentials, which is leading to food banks having to change their opening times to make sure working people can pick up their parcels outside of work hours.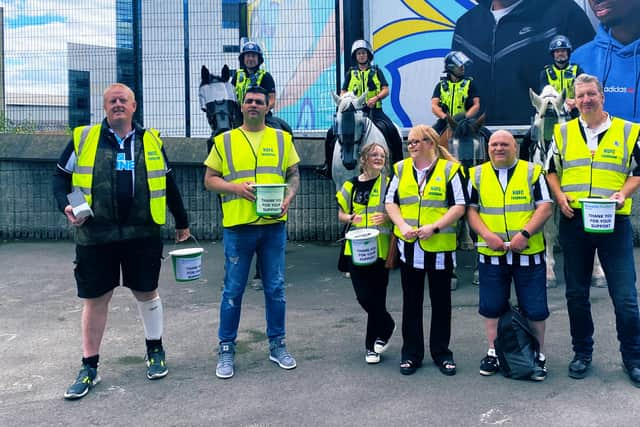 The Trussell Trust has called on the UK government to act decisively in next week's Budget. Chief Executive Emma Revie said: "These new statistics show that, even in summer months, people are struggling to afford the essentials and we are expecting that this winter will be the hardest yet for food banks and the people they support. This is not right.
"We know that with the right support and a stable and sufficient income, people don't need to turn to food banks for support. Over the last few years, the government has acted to protect people who are struggling, and this action has made a difference. They must now act again: with swift support now to help people through the winter, and with vision for the longer term to ensure that social security is always enough to weather challenging times.
"We are calling for the Prime Minister to act decisively in next week's budget. We urge the UK government to realise their commitment of supporting people on the lowest income with a broad package of support. As well as ensuring that benefits rise with inflation as soon as possible, this must go further to close the gap between price rises and incomes over the winter."