There's been a lot to love about Lewis Capaldi ever since he was shot into the limelight with 'Someone You Loved' in 2019. Most recently, I couldn't get over the fact he prepared for a show at the Utilita Arena in Newcastle by dining at a family-run fish and chip shop in North Shields.
Waterfront owner Deborah told The Chronicle: "We didn't know he was coming. One of the girls took his order and then said, 'I have just taken Lewis Capaldi's order!' I said, 'are you taking the mick? and she said, 'No! Lewis Capaldi is sitting at table two.'
"I was just talking to him and everybody was like, 'ooh Lewis Capaldi is in!' Of all the places he could have picked in the North East, he's picked us to come and have his dinner. It was really nice of him.
"We were honoured. It was a really nice night. He said the food was 'banging' and 'lovely'."
The 'Pointless' singer enjoyed a haddock, chips and peas at the venue and I decided what's good enough for Brit Award winners, is good enough for me.
Waterfront is much-loved on Tyneside and has been since it opened in 1995, so the fact I hadn't visited yet was somewhat shameful. Spurred on by the Capaldi clamour, I went down on Monday lunchtime to see what the fuss is all about.
Situated right opposite the Fish Quay, even on a bitterly cold Monday, there's a real buzz about the restaurant and takeaway. Tables are nearly all full at 2 pm with locals enjoying a meal out. Despite the busy restaurant, the smiling staff found me a booth and had me down and sat in no time at all.
The menu is exactly what you'd expect with the British chippy classics all present. The price at Waterfront is great too. Despite the rising price of seafood, a fish, chips and pot of tea will set you back £10.50 with burgers, chicken nuggets and sausages all also on the menu for a cheaper price.
It didn't take me long to decide what I was having, Capaldi had done that work for me already. I ordered the haddock and chips with mushy peas. I was unsure if the star went for garden or mushy peas, but given his love songs, he seems like a mushy guy to me.
The food came quickly and really hit the spot. The fish was tasty and the chips were exactly what you'd want from a seafront chippy. Washing it all down with mugs of tea, I was in heaven.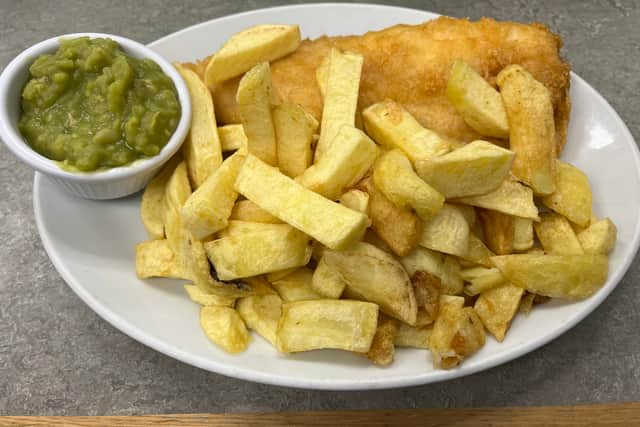 The singer stuck to his Glaswegian roots and added an Iron Bru to his order when dining with friends at the weekend, but I'm not a fan of the sickly Scottish orange stuff so steered clear. Capaldi and co. also had a gelato to add much needed fuel for touring, but I couldn't find space for the dessert on a Monday lunch - it's a handy exuse to return too.
Chatting with staff as I paid, they spoke of the excitement over the weekend with Capaldi's visit and acknowledged the madness of interest that has followed.
It's fantastic to see such big names getting out and about in the North East and supporting independents - I'm sure many choose to order in and avoid the attention that comes with being seen out in public. But, when stars like Lewis Capaldi do support local, the buzz and business it brings are fantastic to see.