A magical two nights of Sam Fender showmanship at the Utilita Arena in Newcastle has come to an end.
Over 20,000 people passed through the arena this week to catch the North Shields star as he brought his Seventeen Going Under tour back home.
Fender dazzled over his hour and a half set which showcased but his fan favourite hits of old and the tracks from last year's critically acclaimed sophomore album.
Whilst on stage Fender admitted that despite touring the country's biggest arenas, including the SSE Wembley, it was these two nights on Tyneside that he and his band had been most excited about.
The singer walked out to the tune of 'Local Hero' as black and white Wor Flags waved to kick off what was an emotional show for many Geordies.
As they spilt out of the arena on night one, NewcastleWorld asked attendees about the set and what makes Sam Fender so special.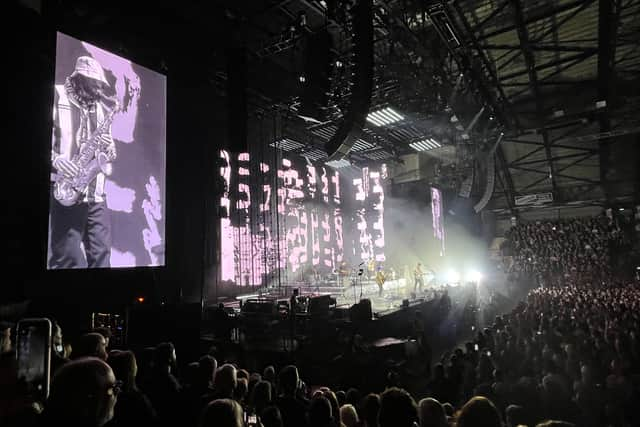 One duo of fans said: "Absolutely brilliant, the 4th time I've seen him.
"Wonderful. I'd put it up there with the best yet.
"When you mix it with his new album, unbelievable.
"He's just himself. No matter how many gigs he can sell out, he's still himself and he'll come back to the North and do it all for us. That's what makes Sam Fender."
Another fan was hit right in the feels during the show.
He said: "We bought tickets and we were right at the back. We jumped the barrier and ended up at the front.
"I cried during 'Spit of You', it was quite emotional. It's about him losing his dad and the connection, I lost someone quite close and it was quite relatable."
Others picked up on the importance of knowing Fender is a local lad.
One fan said: "He's a local lad. He's really real.
"He isn't pretentious and he represents the North East.
"He's charitable with his work with North East Homeless."
Another concert-goer said: "Amazing! Third time seeing him, it was mint.
"I couldn't even choose a favourite song. I love a lot of his old stuff because I went to see him when he was starting off.
"We were just saying, I haven't heard him sing a bad performance. He sounds exactly the same as he does on the song.
"He's a natural and he loves being at home! It's nice for someone to fully love where they're from and be fully behind the working class as that's what this city is about.
"Everyone identifies with him. It's unreal."