There wasn't a dry eye in the Twitter-verse as a young Newcastle lad was read a heartwarming message from Hollywood star Ryan Reynolds to help his recovery from a major operation.
Geordie youngster Seb Hollingsworth has just undergone an open heart surgery operation and is recovering at the Freeman Hospital.
The 13-year-old was just 16 weeks old when he first had to undergo life-saving open heart surgery and has been described as "the most incredible boy with an abundance of bravery" in how he has managed his health battles since then.
Seb's courage in the face of such challenges make him nothing short of a superhero and, on Wednesday, he received a heartwarming message from a fellow superhero.
Marvel star Ryan Reynolds picked up a plea from Seb's father Ivan on Twitter.
Mr Hollingsworth acknowledged the ask was a "long shot" but was worth a shot for his son.
Less than 24 hours later and the family hit the jackpot with Deadpool actor Ryan Reynolds picking up the message and sending over a video just for Seb - who has photos of the actor up in his room.
Mr Hollingsworth struggled to hold back the tears as he prepared to show Seb the video, in which Ryan said: "I hear you're going through it pal and I saw you have a ton of people worried for you who love you very much.
"I just wanted to send you my well wishes and all my love. Hang in there, you're doing amazing and I'm super proud of you."
A beaming Seb was left stunned by the generosity of his favourite movie star.
Mr Hollingsworth told ITV: "Over the years we've done so much fundraising for others, we've been doing this for a long, long time and have managed to get things for other children, including messages from celebrities but we've never asked for anything for ourselves.
"But last night I was sat at Seb's bedside, and I was so overwhelmingly proud of him, and I thought 'I'm just going to tweet and see if I can get him something amazing - so I sent out a tweet with some pictures and then went back to his bedside'.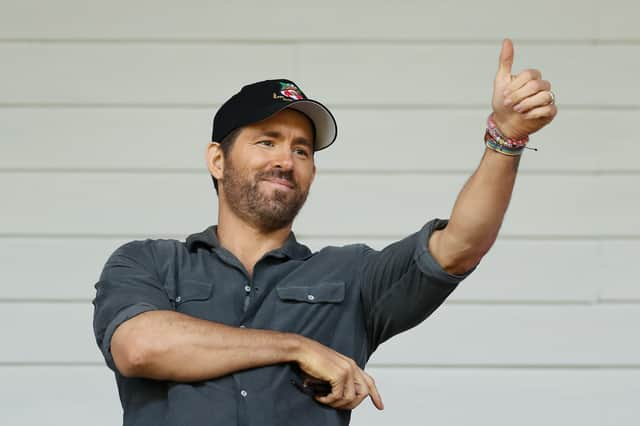 "It blew up overnight, with so many people tagging different Marvel stars, which was amazing, to think Seb's story had connected with so many people.
"I had nipped home to do some work, and I was teaching a few webinars, and my phone would not stop vibrating. When I could finally pick it up, it was full of people saying 'Ryan Reynolds wants to talk to you, check your DMs'.
"So I sent him the picture of Deadpool above Seb's bed and he sent us back a video, and he and Seb have been sending a few messages back and forth."
The video online prompted an outpouring of love both for Seb and the classy actor.
One Twitter user said: "This is awesome! So chuffed for Seb. I mean you know superheroes attract super hero's right? Seb has definitely got superhero vibes. High fives Seb."
Another wrote: "I'm actually in tears watching this in an airport. Seb is a real superhero! Please tell him there are so many non-superheroes who are proud of him too!"