A woman who hadn't used the Tyne Tunnel once since its cashless switch was left baffled when a fine came through her letterbox.
Jill Dodds of Bishop Auckland was going about her day as usual when through her letterbox came a letter from TT2 on March 16.
A confused Ms Dodds opened it to see she had been fined for not paying a toll for using the road, despite having not used it any time recently.
The Tyne Tunnel switched to a cashless system late last year, meaning that users must now pay for their journey before using the road or by midnight the following day.
Ms Dodds was left having to contact TT2 and complain about the fine.
She said: "The letter said I was travelling through the tunnel southbound at 6:37 am on March 2.
"My husband brought the post in from work and I opened it and thought... why have I got a photograph of a car?
"I saw it was from the Tyne Tunnel. I don't get up until 7 am! How could I have done it?
"He looked at me funny... I said to the TT2 guy on the phone, my other half thought I was dogging about! I'm 52 years old!"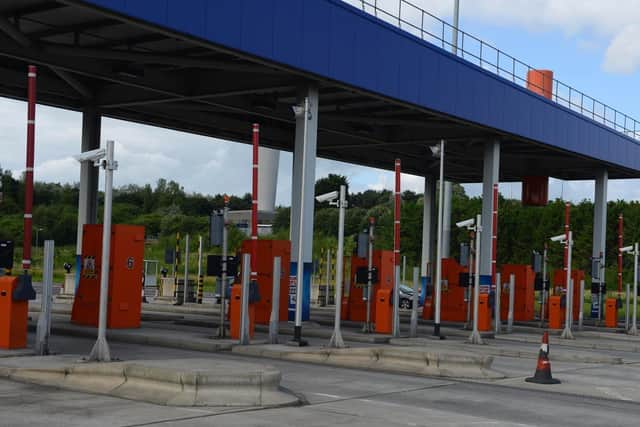 Ms Dodds added that the staff member she spoke to at TT2 was a "lovely guy" and said she felt sorry for him having to deal with a system that seems to hand out fines "like a tombola".
She added: "It's not their fault, they are just circumstantial to what's going on. I feel sorry for him really.
"It's like a tombola! They just put their hand in and pick a number out. It's crazy.
"They need to stop this. They've stressed me and nearly caused an argument between me and my other half."
Ms Dodds revealed that the fine had come about due to an issue with a camera angle.
One of the Tunnel's cameras wasn't in a suitable position to read a full number plate, missing the first letter of the actual offending car.
As a result, it just fired the fine to what it could see of the number plate, which corresponded to Ms Dodds' Land Rover - the car half caught on camera is an INFINITI.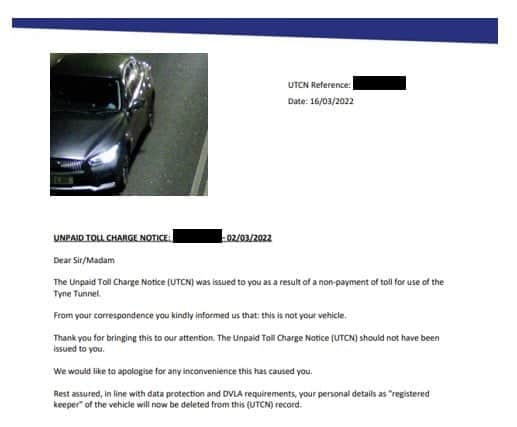 Once she had appealed the fine, Ms Dodds' fine was removed.
Speaking on how such errors could hit others, she said: "My mum is nearly 80.
"If she got that through the post, she wouldn't have even looked at the colour of the car.
"She would have thought the lighting was off or something.
"She would've paid that... how many other people do they do this to?"
NewcastleWorld took Ms Dodds' story to TT2 for a comment.
Chief Executive at TT2, Philip Smith, said: "An inaccurate Automatic Number Plate Recognition (ANPR) reading unfortunately led to Ms Dodds receiving an invalid charge notice.
"It was quashed immediately on appeal and we would like to apologise to Ms Dodds for any inconvenience this caused.
"Thankfully, due to the high accuracy of our ANPR system, incorrect number plate readings are very rare and will always be rectified as soon as a customer appeals their UTCN -meaning they will never need to pay for our error.
"Currently, our ANPR readings are correct 99.8% of the time and our agents manually check around 5,000 readings per day.
"We are putting new steps in place continually to improve this accuracy rate, as we learn more about the technology and how to effectively mitigate against any anomalies that occur in the automatic readings. We are striving to reach an accuracy rate of 99.96% and believe we are track to achieve this."