A protestor who fronted an anti-trans rally in Newcastle and quoted from Adolf Hitler manifesto Mein Kampf has been asked to "never come back" by Northern Pride.
A small group of anti-trans campaigners collected outside St Thomas' Church in the city centre on Sunday, January 15 as part of a Let Women Speak tour led by Posie Parker. The anti-trans was met with a large group of LGBTQ+ counter-protestors who sported Pride flags and chanted in support of trans rights.
One speaker of the anti-trans group, identified as UK Guild of Hypnosis Practitioners (UKGH) chair Lisa Morgan, delivered a speech referencing ideas coined by the Nazi leader.
As reported by PinkNews, Morgan quoted the 1925 book in referencing 'the big lie', she said: "I know about language, and I know that this [a counter-protest] is based on something that we call the big lie.
"Do you know the big lie? The big lie was first described by Adolf Hitler in Mein Kampf. The big lie is such a big lie that ordinary people like us think, 'Well, that can't be a lie because I would never tell such a big lie as that. We only lie in small ways.'
"The big lie, well there is one big lie going on, and it was begun by men in the early part of the 20th century. It began when they had an erotic fantasy and they decided they were going to sell us the big lie – and what is the big lie?
"The big lie is that trans women are women. But they're not are they? They're men and we know that."
In response to the speech and protest, Northern Pride director Ste Dunn has said that he hopes the anti-trans group "never come back" to Newcastle in the future.
He said: "Northern Pride joined the large number of people and community groups who banded together to drown out the voices of the hateful protestors and speakers who came to Newcastle to try and cause upset in the city.
"While we are disappointed that they felt it necessary to do this, we are very proud of the fact that they were outnumbered by the crowds of people who came to support trans rights and behaved in a peaceful and positive way.
"Newcastle and the North East has strong support for all the LGBTQIA+ community and we hope that the small group of protestors will realise that and will never come back."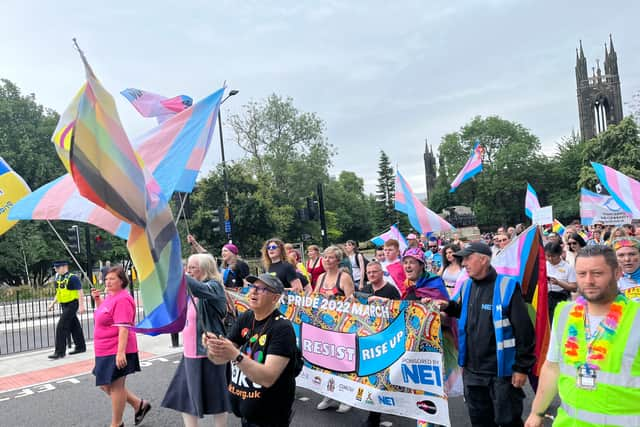 Newcastle City Council told PinkNews that the city is "a safe and welcoming city that celebrates diversity and champions equality in all aspects of life, while not accepting any form of hate or discrimination", but that the right to demonstrate must be respected as per the European Convention for Human Rights.
Northumbria Police confirmed that one arrest had been made during the protest and said: "A 19-year-old man was arrested for a breach of the peace. He was later released." The force added that it was "not aware of any other complaints or action" regarding the speech referencing Adolf Hitler.