The Newcastle Christmas Lights will be switched on tonight and Geordies will feel the street around Monument to see a mysterious guest illuminate the streets of the city. To get in the mood, we fly back three years to remember the evening Sam Fender had his finger on the festive button.
The North Shields star is of course a household name these days with his global success and critically-acclaimed sophomore record Seventeen Going Under winning hearts this year. Rewind a few years and, as he stood with his finger on the Newcastle Christmas Lights button, Fender's career was really starting to take off.
A few months previous the singer had released his debut album Hypersonic Missiles, which hit the top of the UK Albums Chart, being awarded the gong by hero and Newcastle United legend Alan Shearer. In that year Fender had also made his US television debut, played some major festivals and picked up a Brit Award.
Arriving on stage in Newcastle for the switch-on with his classic grin, Fender sported a big puffy jacket and a green beany as he was welcomed by Steve and Karen from Metro Radio. After a little technical blip with his microphone, he greeted the busy crowd.
The singer was gifted a bottle of wine and a Festive Bake by the hosts as he promoted his four nights at the O2 Academy Newcastle, scheduled just a couple of weeks later. Asked about what he wanted for Christmas, Fender replied to see his grandad and a bit of time off.
The singer wasn't alone to switch on the lights either, bringing along his mate Johnny 'Blue Hat' Davis and his saxophone - both had actually flown into Newcastle from Fender's European tour for the event. Speaking to the council backstage on why he made the trip, Fender said: "I miss home a lot when I'm on the road, any excuse to pop back and see my mam and that. It's amazing, I'm buzzing. The people of Newcastle have been there since the start, they're mental, they're the best. Merry Christmas ya legends."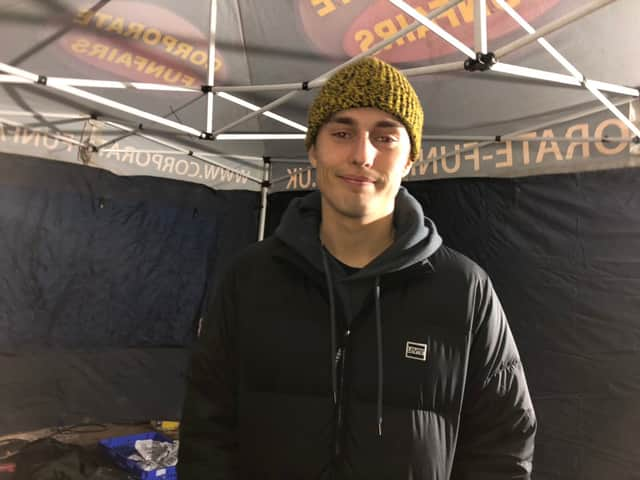 Then, in classic Fender style, the star almost went off to catch his flight without even pressing the button to switch the lights on - if he had been just a little quicker it would have been a gaffe that went down in Geordie folklore. Rushed back by Steve and Karen, the star led the countdown from 10 before smashing the button and lighting up Newcastle for Christmas.