Newcastle Clean Air Zone: 4 drivers affected now, 2 in July and 1 never
Four types of drivers need to be aware of the Clean Air Zone charges now, two types of driver in July and one type never.
Watch more of our videos on Shots!
and live on Freeview channel 276
Visit Shots! now
The Newcastle Clean Air Zone is now in place across the city centre and into the edge of Gateshead as the council seeks to cut air pollution.
Signs have been popping up across Newcastle and Gateshead in recent months to forewarn drivers of the imminent charges, which will come into place from January 30 this year.
Some residents had accused Newcastle City Council of implementing the Clean Air Zone as a way to raise taxes, but council leader Nick Kemp has reminded locals that this is not the case, and any money raised through fines must be spent on the scheme and road improvements.
Mr Kemp told BBC Radio Newcastle: "This has been well discussed and is a government directive imposed on us in 2019. We've engaged with more than 20,000 people and businesses directly and the signage will be updated regularly from now to the 30th [of January], informing people who will be penalised and those who won't.
"We have [faced] the criticism that this is a tax-raising scheme. It's not. Money generated through fines will go towards running the scheme and road improvements. We can't spend it elsewhere."
There are a number of financial schemes in place to help those with non-compliant cars to be able to afford a new one and the council has so far received almost 1,300 applications.
The Clean Air Zone has caused worries for many in the North East and, whilst thousands will be affected, even more don't have to worry just yet. You can see which category you fall into below.
Who will be hit by Clean Air Zone fines from January 30, 2023?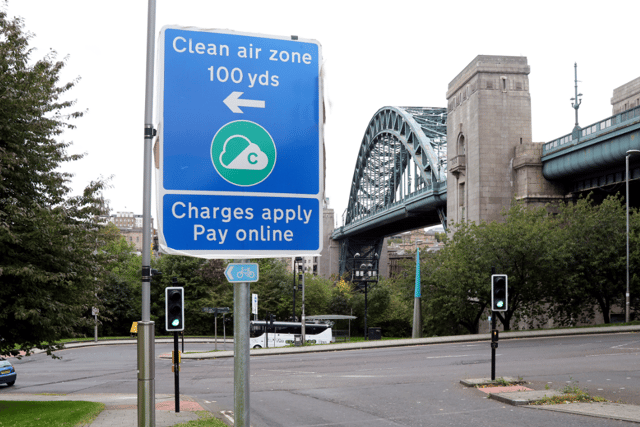 The first set of drivers to be hit by the Clean Air Zone are taxis, buses, coaches and HGVs. From Monday, January 30 these types of vehicles will be charged to drive in the city centre zone each day.
For HGVs, buses and coaches that will be £50 per day. Taxis and vans will be £12.50 per day.
If you drive one of those vehicles, you can work out if you meet the requirements to use the Clean Air Zone by your registration below - or on the government checker here:
Taxis - Diesel, after September 2015. Petrol, generally after 2005.
Vans - Diesel, after September 2016. Petrol, after January 2006.
Buses, coaches and HGVs - Diesel, after September 2016. Petrol, after January 2006.
Who will be hit by Clean Air Zone fines from July 2023?
Some vehicles will escape the fines coming in place at the end of January but will be included at a later date.
That date is pencilled in for July 2023, although a specific day is yet to be confirmed.
Vehicles affected in the next wave of charges will be vans and light-good vehicles. This delay is "to allow additional time for owners to upgrade due to national vehicle supply issues".
Who won't be hit by Clean Air Zone fines?
The vast majority of drivers in Newcastle and across the North East will be able to drive in the Clean Air Zone without worry.
Private cars are not affected by the zone. Whether in years to come that changes remain to be seen, but there is no need for private car owners to panic about charges for the moment.