Charges for the Newcastle Clean Air Zone begin today in the North East after months of warning.
Drivers of the most polluting vehicles will have to fork out daily fees to drive in the Newcastle city centre and into Gateshead. From Monday, January 30 taxis, private hire vehicles, buses, coaches and HGVs will be charged between £12.50 and £50 a day.
Newcastle City Council has acknowledged that the charges may be unpopular and that not only is it a legal obligation to introduce them, but a moral one too.
Cllr Martin Gannon, Chair of the North East Joint Transport Committee said "We're legally required to do it, but you'd probably say we were morally required. There were something like 38,000 premature deaths a year caused by poor air quality. It's about ensuring that the quality of the air in central Gateshead and in Newcastle is improved for the population.
"This is entirely to do with air quality, which is a public health concern. But I'd raise a further issue as well because everyone talks about the necessity to improve issues related to climate change. The vast majority of emissions which are causing catastrophic climate change are coming from transport. We need, as a society, to move away from a reliance on private cars - and this is linked to needing a better public transport system."
Who will have to pay the Newcastle Clean Air Zone charge?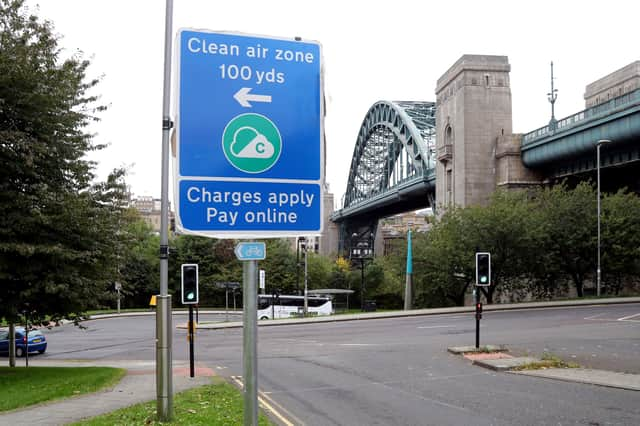 The first thing to know is that private cars are not affected by the Newcastle and Gateshead Clean Air Zone. It only affects buses, coaches, taxis, vans and heavy goods vehicles that do not meet national Clean Air Zone emissions standards.
Charges are being implemented in two phases. Fees for non-compliant taxis, buses, coaches and HGVs will begin on 30 January 2023. Charges for vans and light goods vehicles will be delayed until July 2023 to allow additional time for owners to upgrade due to national vehicle supply issues.
If you drive a vehicle that will be affected, you can check whether it meets Clean Air Zone requirements via the Government site here. A basic guide is that registration plates must be of the following date or newer:
Taxis - Diesel after September 2015. Petrol after 2005 (in some cases 2001).
Vans - Diesel after September 2016 and petrol after January 2006.
HGVs, Buses and coaches - After 2014.
Charges for non-compliant vehicles to drive within the CAZ will be £12.50 a day for vans and taxis and £50 per day for buses, coaches and HGVs.
Where does the Newcastle Clean Air Zone cover?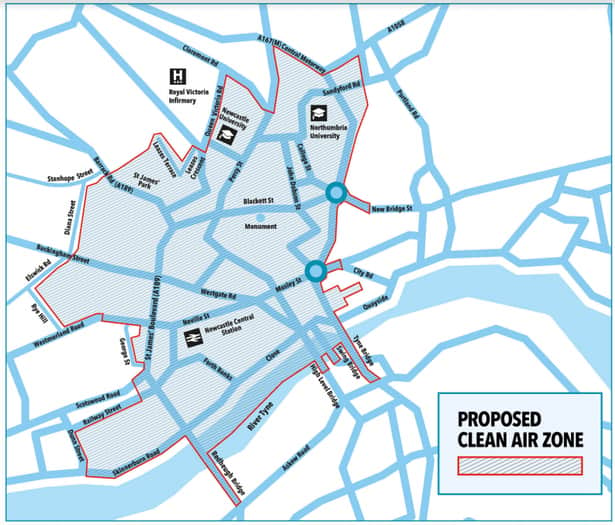 The Newcastle and Gateshead Clean Air Zone covers the majority of the city centre. It begins at the entry point of the Redheugh Bridge, Tyne Bridge and Swing Bridge - it also applies on the High Level Bridge although traffic here is one-way out of Newcastle.
The zone then runs from Close on the Quayside and along Skinnerburn Road then up to the Royal Victoria Infirmary, along the Central Motorway and back by Northumbria University to the Tyne Bridge.
What have people said as the charges begin?
Activist group Climate Action Newcastle gathered in Newcastle on Monday morning to celebrate the introduction of the Clean Air Zone in the city.
Signs read "we love cleaner air", "yay, no cars" and "remembering Ella Kissi-Debrah" - a nine-year-old girl who died from an asthma attack in London in 2013 part caused by air pollution.
Another Twitter user labelled the Clean Air Zone "better than nowt" but lamented that it did not cover private vehicles.
Meanwhile, some taxi and bus drivers who are immediately affected by the charge have already spoken out about the impact it will have on their business during a cost of living crisis - even with government grants available to upgrade vehicles.
Some online criticised the Clean Air Zone as "the demise of the Newcastle city centre" and accused the council of running a "money-making scheme".