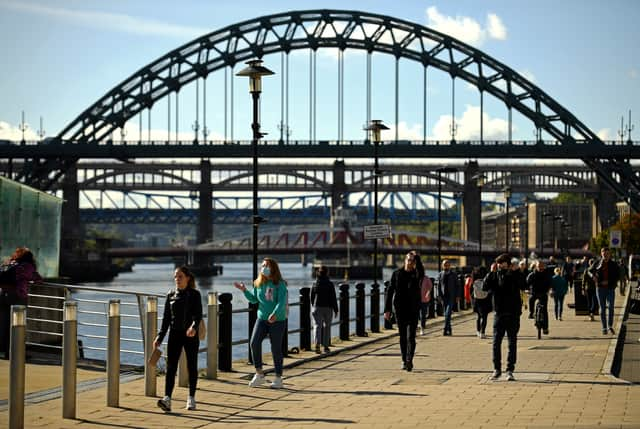 The BBC wants to hear life stories from the North East (Image: Getty Images)
A new BBC initiative is giving people in Newcastle the chance to have a song written about their lives.
BBC Radio 2 is working with BBC Local Radio on the 21st Century Folk project which launches today, Monday, February 7.
The project strives 'to capture the essence of life in the North East of England in 2022' through music.
This isn't any old pop song though, those successful will have their stories retold through folk music.
Mark Radcliffe unveils the project on The Zoe Ball Breakfast Show today, asking people from the North East to share stories about their daily lives.
Five of those stories submitted will be given to songwriters to create original songs.
The songs will then be performed by a range of artists, including musicians with links to the region.
Helen Thomas, Head of Radio 2, said: "Radio 2 is always looking for ways to tell stories, and 21st Century Folk is a creatively ambitious and hugely exciting new endeavour.
"Following in the tradition of the Radio Ballads, I'm proud that in the BBC's centenary year we will be telling the real life stories of our listeners in the North East of England, using original music to create a lasting legacy of their experiences."
Mark Radcliffe, presenter of The Folk Show on Radio 2, said: "People often ask me to define what folk music is and it's a hard question to answer definitively.
"Its backbone, though, is the telling of the real lives of working people and this project does just that.
BBC Radio 2 are behind the initiative
"Gustav Mahler once said, 'Tradition is tending the flame not worshipping the ashes.'
"With 21st Century Folk Radio 2 is very much keeping the candle burning."
The stories and songs of 21st Century Folk will be revealed in special programmes on Radio 2 later this autumn, following the songwriters and listeners selected to take part as they meet, are inspired by their experiences and progress through the songwriting process.
Anyone over the age of 18 living in the North East can submit a story and the winners will be chosen by a panel in March.
Later in the Spring they will be paired with and meet the songwriters who'll be creating the music from their stories.
They and their songwriter will really get to know each other, with their meetings recorded and filmed for documentaries that will air on Radio 2 in the autumn.
Visit www.bbc.co.uk/folk for full details and how to get involved. The website is now open for submissions and closes on Wednesday 2nd March at 11.59pm.