Charlotte Crosby admitted that she has eaten a lavish Sunday roast for breakfast both this morning and on Monday. The Geordie Shore star shared with her 8.6 million followers that she had enjoyed roast meat with all the trimmings for two days in a row before 10am and revealed a plate that was scraped clean.
She confessed to the camera: "You will not believe what I have eaten for two mornings in a row. We had Pete Cooks, private chef, over and his food is like something you have never tasted in your life. It is just phenomenal. When he came around on Sunday to do the catering I didn't get a chance to eat the Sunday dinner. When I was hungover yesterday I had Sunday dinner for breakfast. Today I have put more leftovers in the bowl, filled it with gravy and I have just sat and eaten half of it." Charlotte's partner, Jake, added: "This is a disgrace and is very strange behaviour."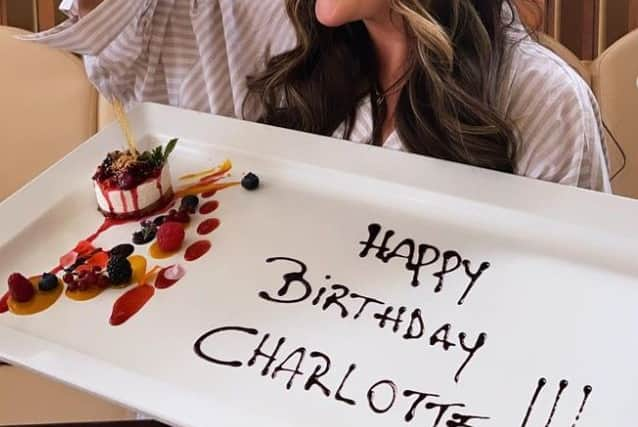 Charlotte spent the weekend at her luxury pad in Sunderland and was treated to a surprise birthday party with all her friends and family present. The Geordie Shore favourite was driven away blindfolded in the early hours of the evening by her boyfriend Jake Ankers and then returned believing she had been taken to York for a birthday treat. Instead her partner had arranged a surprise party at their home with Pete Cooks, the personal chef, a DJ and a mixologist for the reality star and her friends.
Charlotte was thrilled and quickly went off to change into a neon pink figure-hugging dress and some beige heels. With her brunette locks cascading past her shoulders and immaculate make-up, the star was ready to celebrate.
The surprise is not the first time that Charlotte has celebrated her birthday as she spent last week Chi Kee Wun in San Antonio Bay on a photoshoot for her brand 'Pepper Girls Club'. She enjoyed two wild nights out in Ibiza drinking cocktails, eating tasty dishes and taking selfies with models from the shoot and friends.
Charlotte may have gone all out celebrating her birthday this year but she has had a tough few weeks prior to the big day. Charlotte and her Geordie castmates experienced a disaster whilst filming the final series of Geordie Shore in Cyprus. The stars were flown out to shoot the next instalment but illness swept through the cast meaning that many were too unwell to shoot. The production was therefore cancelled leaving fans disappointed.