Vicky Pattison has swapped glamour and comfort for a cold night spent sleeping outdoors to raise money for the homeless charity, Centrepoint. The former Geordie Shore star, 35, from Newcastle, will be taking part in 'The Sleep Out' which is a fundraising challenge that doesn't replicate what it's like to sleep rough, but gives an idea of the situation a lot of young people find themselves in.
Vicky posted a snap of herself on her Instagram dressed in a casual grey hoodie and tracksuit bottoms. The star can be seen sitting inside a bright orange tent which will be her home for the night. Vicky shared some shocking statistics alongside the snap: "Last year across the UK 129,000 young people were homeless or at risk of homelessness.5,000 young people in the North East alone were homeless or at risk of homelessness last year.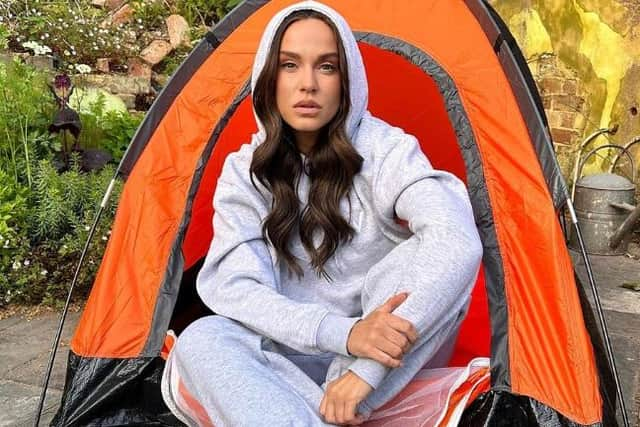 "@centrepointuk provides homeless young people with accommodation, health support and life skills in order to get them back into education, training and employment. The service they provide is invaluable... but they do need your support to improve the lives of these young people."
Whilst Vicky won't be sleeping on the streets, she will experience what sleeping outside without creature comforts might feel like. Vicky will be spending the night at the RHS Chelsea Flower Show in a garden specifically designed by Chelsea Flower Show legend and @centrepointuk supporter @cleve_west! Cleve's innovative and thought-provoking design aims to not only capture the essence of youth homelessness but also the attention of the public.
Vicky has been supporting @centrepointuk for more than six years and took part in 'The Sleep Out' back in November 2017 and said the experience gave her: "a small glimpse into what being homeless must be like" and called the experience: "eye-opening".
Whilst preparing for the night ahead Vicky said: "I am absolutely honoured to be undertaking this challenge tonight in the hopes that it will raise money and awareness for young people experiencing homelessness."
"So wish me luck- I won't insult those who are forced to sleep rough by suggesting that by sleeping outside for one night I have any idea about what they experience. The Sleep Out does not set out to replicate what it's like to sleep rough but gives an idea of the isolating situation a lot of young people find themselves in, while also supporting those who face this as a reality."
Celebrity friends and followers were quick to comment on her latest campaign. Bake Off's John Whaite gave Vicky "🙌🙌 whilst Cleve West, who designed the garden said: "Thank you for your support Vicky and sorry I wasn't there to welcome you. Hope that you have a good evening… see you in the morning!"
One follower commended Vicky saying: "Well done Vicky for raising awareness on a subject that gets very little media coverage ❤ ️". Another added:" This is amazing raising awareness for this as well as doing it yourself to experience it. It breaks my heart that young people or just any age are having to sleep on the streets.❤️."